Ewer appeal allowed
8th May 1970
Page 39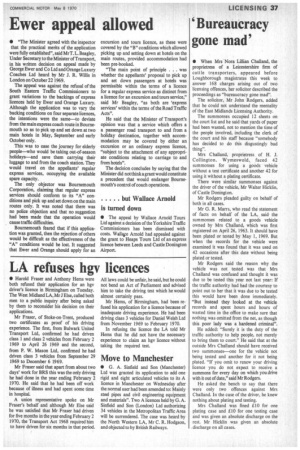 Page 39, 8th May 1970 —
Ewer appeal allowed
Close
Keywords :
• "The Minister agreed with the inspector that the practical merits of the application were fully established", said Mn. L. Beagley, Under Secretary to the Minister of Transport, in his written decision on appeal made by George Ewer and Co Ltd and Orange Luxury Coaches Ltd heard by Mr J. R. Willis in London on October 22 1969.
The appeal was against the refusal of the South Eastern Traffic Commissioners to grant variations to the backings of express licences held by Ewer and Orange Luxury. Although the application was to vary the backing conditions on four separate licences, the intentions were the same—to deviate from the main express coach route in Bournemouth so as to pick up and set down at two main hotels in May, September and early October only.
This was to ease the journey for elderly people—who would be taking out-of-season holidays—and save them carrying their luggage to and from the coach station. They would travel on the appellants' regular express services, occupying the available spare capacity.
The only objector was Bournemouth Corporation, claiming that regular express services should conform to its "A" conditions and pick up and set down on the main routes only. It was noted that there was no police objection and that no suggestion had been made that the operation would cause traffic difficulties.
Bournemouth feared that if this application was granted, then the rejection of others would be difficult as the effectiveness of the "A" conditions would be lost. It suggested that Ewer and Orange should apply for an excursion and tours licence, as these were covered by the "B" conditions which allowed picking up and setting down at hotels on the main routes, provided accommodation had been pre-booked.
"The main point of principle . . . was whether the appellants' proposal to pick up and set down passengers at hotels was permissible within the terms of a licence for a regular express service as distinct from a licence for an excursion and tours service," said Mr Beagley, "as both are 'express services' within the terms of the Road Traffic Acts".
He said that the Minister of Transport's opinion was that a service which offers a a passenger road transport to and from a holiday destination, together with accommodation may be covered by either an excursion or an ordinary express licence, "subject to the attachment of any appropriate conditions relating to carriage to and from hotels".
The decision concludes by saying that the Minister did not think a grant would constitute a precedent that would endanger Bournemouth's control of coach operations.
but Wallace Arnold is turned down
• The appeal by Wallace Arnold Tours Ltd against a decision of the Yorkshire Traffic Commissioners has been dismissed with costs. Wall*e Arnold had appealed against the grant to Heaps Tours Ltd of an express licence between Leeds and Castle Donington Airport.