'Bureaucracy gone mad'
8th May 1970
Page 39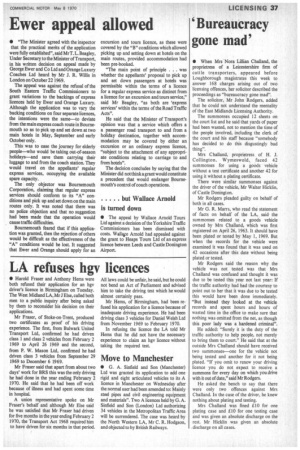 Page 39, 8th May 1970 —
'Bureaucracy gone mad'
Close
• When Mrs Nora Lillian Challand, the proprietress of a Leicestershire firm of cattle transporters. appeared before Loughborough magistrates this week to answer 168 charges arising out of two licensing offences, her solicitor described the proceedings as "bureaucracy gone mad".
The solicitor, Mr John Rodgers. added that he could not understand the mentality of the East Midlands Licensing Authority.
The summonses occupied 12 sheets on the court list and he said that yards of paper had been wasted, not to mention the time of the people involved, including the clerk of the court and his staff because "somebody has decided to do this disgustingly bad thing".
Mrs Challand. proprietress of H. J. Collington. Wymeswold. faced 42 summonses for using a goods vehicle without a test certificate and another 42 for using it without a plating certificate.
There were similar summonses against the driver of the vehicle. Mr Walter Hicklin. of Castle Donington.
Mr Rodgers pleaded guilty on behalf of both in all cases.
Mr G. R. Marrs, who read the statement of facts on behalf of the LA, said the summonses related to a goods vehicle owned by Mrs Challand, which was first registered on April 26, 1963. It should have been plated or tested by May 1, 1969. But when the records for the vehicle were examined it was found that it was used on 42 occasions after this date without being plated or tested.
Mr Rodgers said the reason why the vehicle was not tested was that Mrs Challand was confused and thought it was due to be tested this year not last year: If the traffic authority had had the courtesy to point out to her that it was due to be tested this would have been done immediately. "But instead they looked at the vehicle records and spent hours and hours of wasted time in the office to make sure that nothing was omitted from the net, as though this poor lady was a hardened criminal".
He added: "Surely it is the duty of the traffic authority to help people. not merely to bring them to court." He said that at the outside Mrs Challand should have received two summonses—one for the vehicle not being tested and another for it not being plated. "If you omit to renew your driving licence you do not expect to receive a summons for every day on which you drive with it out of date," said Mr Rodgers.
lie asked the bench to say that there were only two offences against Mrs Challand. In the case of the driver, he knew nothing about plating and testing.
Mrs Challand was fined £10 for one plating case and £10 for one testing case and was given an absolute discharge on the rest. Mr Hicklin was given an absolute discharge on all cases.