Green light for Econofreight
8th May 1970
Page 34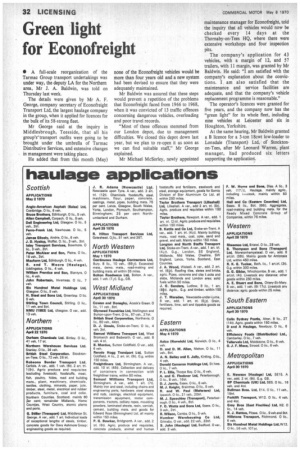 Page 34, 8th May 1970 —
Green light for Econofreight
Close
• A full-scale reorganization of the Tarmac Group transport undertakings was under way, the deputy LA for the Northern area, Mr J. A. Baldwin, was told on Thursday last week.
The details were given by Mr A. F. George, company secretary of Econofreight Transport Ltd, the largest haulage company in the group, when it applied for licences for the bulk of its 58-strong fleet.
Mr George said at the inquiry in Middlesbrough, Teesside, that all his group's-transport outfits were going to be brought under the umbrella of Tarmac Distributive Services, and extensive changes in management were taking place.
He added that from this month (May) none of the Econofreight vehicles would be more than four years old and a new system had been devised to ensure that they were adequately maintained.
Mr Baldwin was assured that these steps would prevent a repetition of the problems that Econofreight faced from 1966 to 1968, when it was convicted of 13 traffic offences concerning dangerous vehicles, overloading and poor travel records.
"Most of these offences stemmed from our London depot, due to management difficulties. We closed this depot down last year, but we plan to re-open it as soon as we can find suitable staff," Mr George explained.
Mr Michael McSorley, newly appointed maintenance manager for Econofreight, told the inquiry that all vehicles would now be checked every 14 days at the Thornaby-on-Tees HQ, where there were extensive workshops and four inspection pits.
The company's application for 43 vehicles, with a margin of 12, and 57 trailers, with 11 margin, was granted by Mr Baldwin. He said: "I am satisfied with the company's explanation about the convictions. I am also satisfied that the maintenance and service facilities are adequate, and that the company's vehicle replacement programme is reasonable."
The operator's licences were granted for five years, and the company now has the "green light" for its whole fleet, including nine vehicles at Leicester and six in Houghton. Yorkshire.
At the same hearing, Mr Baldwin granted a B licence for a 3-ton 18cwt low-loader to Lonsdale (Transport) Ltd, of Stocktonon-Tees, after Mr Leonard Warren, plant manager, had produced six letters supporting the application.