Councils and operators must be partners
8th May 1970
Page 32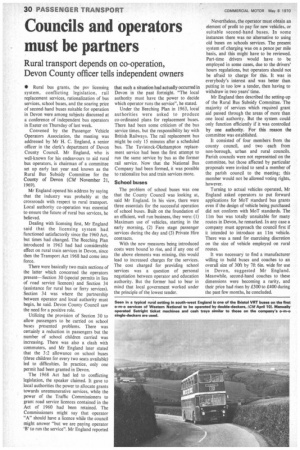 Page 32, 8th May 1970 —
Councils and operators must be partners
Close
Rural transport depends on co-operation, Devon County officer tells independent owners
• Rural bus grants, the psv licensing system, conflicting legislation, rail replacement services, rationalization of bus services, school buses, and the soaring price of second-hand buses suitable for operation in Devon were among subjects discussed at a conference of independent bus operators in Exeter on Thursday of last week.
Convened by the Passenger Vehicle Operators Association, the meeting was addressed by Mr H. C. England, a senior officer in the clerk's department of Devon County Council. Mr England, who is well-known for his endeavours to aid rural bus operators, is chairman of a committee set up early last year and known as the Rural Bus Subsidy Committee for the County of Devon (CM November 21, 1969), Mr England opened his address by saying that the industry was probably at the crossroads with respect to rural transport. Local authority co-operation was essential to ensure the future of rural bus services, he believed.
Dealing with licensing first, Mr England said that the licensing system had, functioned satisfactorily since the 1960 Act, but times had changed. The Beeching Plan introduced in 1963 had had considerable effect on rural train services in Devon, since then the Transport Act 1968 had come into force.
There were basically two main sections of the latter which concerned the operators present—Section 30 (special permits in lieu of road service licences) and Section 34 (assistance for rural bus or ferry services). Section 34 was where the partnership between operator and local authority must begin, he said. Devon County Council saw the need for a positive role.
Utilizing the provision of Section 30 to allow passengers to be carried on school buses presented problems. There was certainly a reduction in passengers but the number of school children carried was increasing. There was also a clash with commuters, and Mr England later stated that the 3:2 allowance on school buses (three children for every two seats available) led to difficulties. In practice, only one permit had been granted in Devon.
The 1968 Act had led to conflicting legislation, the speaker claimed. It gave to local authorities the power to allocate grants towards unremunerative services, while the power of the Traffic Commissioners to grant road service licences contained in the Act of 1960 had been retained. The Commissioners might say that operator "A" should have a licence while the council might answer "but we are paying operator 'B' to run the service". Mr England reported
that such a situation had actually occurred in Devon in the past fortnight. "The local authority must have the power to decide which operator runs the service", he stated.
Under the Beeching Plan in 1963, local authorities were asked to produce co-ordinated plans for replacement buses. There had been some criticism of the bus service times, but the responsibility lay with British Railways. The rail replacement bus might be only 15 minutes after a scheduled bus. The Tavistock-Okehampton replacement service had been the first attempt to run the same service by bus as the former rail service. Now that the National Bus Company had been formed, it was possible to rationalize bus and train services more.
School buses The problem of school buses was one that the County Council was looking at, said Mr England. In his view, there were three essentials for the successful operation of school buses. Built on the foundation of an efficient, well run business, they were: (0 Maximum use of vehicles, starting in the early morning, (2) Fare stage passenger services during the day and (3) Private Hire contracts.
With the new measures being introduced costs were bound to rise, and if any one of the above elements was missing, this would lead to increased charges for the services. The cost charged for providing school services was a question of personal negotiation between operator and education authority. But the former had to bear in mind that local government worked under the principle of the lowest tender. Nevertheless, the operator must obtain an element of profit to pay for new vehicles, or suitable second-hand buses. In some instances there was no alternative to using old buses on schools services. The present system of charging was on a pence per mile basis, and this might have to be reviewed. Part-time drivers would have to be employed in some cases, due to the drivers' hours regulations, but operators should not be afraid to charge for this. It was in everybody's interest and was better than putting in too low a tender, then having to withdraw in two years' time.
Mr England then described the setting-up of the Rural Bus Subsidy Committee. The majority of services which required grant aid passed through the areas of more than one local authority. But the system could only function efficiently if it was controlled by one authority. For this reason the committee was established.
It consisted of four members from the county council, and two each from non-borough, urban and rural councils. Parish councils were not represented on the committee, but those affected by particular proposals were invited to send a member of the parish council to the meeting; this member would not be allowed voting rights, however.
Turning to actual vehicles operated, Mr England asked operators to put forward applications for MoT standard bus grants even if the design of vehicle being purchased did not conform with MoT standards. The Ilm bus was totally unsuitable for many routes in Devon, he remarked. In any case a company must approach the council first if it intended to introduce an 1 lm vehicle. There was a need for exercising discretion on the size of vehicle employed on rural routes.
It was necessary to find a manufacturer willing to build buses and coaches to an overall size of 3011 by 7ft 6in. wide for use in Devon, suggested Mr England. Meanwhile, second-hand coaches to these dimensions were becoming a rarity, and their price had risen by £300 to £400 during the past few months, he concluded.