Stop-start to Brighton
8th May 1970
Page 29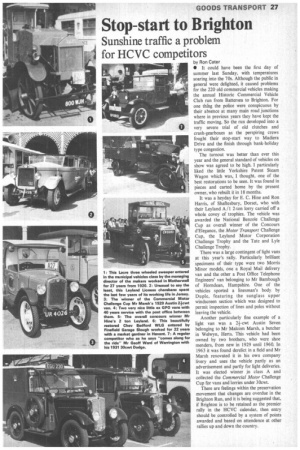 Page 29, 8th May 1970 —
Stop-start to Brighton
Close
Sunshine traffic a problem for HCVC competitors
by Ron Cater • It could have been the first day of summer last Sunday, with temperatures soaring into the 70s. Although the public in general were delighted, it caused problems for the 220 old commercial vehicles making the annual Historic Commercial Vehicle Club run from Battersea to Brighton. For one thing the police were conspicuous by their absence at many main road junctions where in previous years they have kept the traffic moving. So the run developed into a very severe trial of old clutches and crash-gearboxes as the perspiring crews fought their stop-start way to Madiera Drive and the finish through bank-holiday type congestion.
The turnout was better than ever this year and the general standard of vehicles on show was agreed to be high. I particularly liked the little Yorkshire Patent Steam Wagon which was, I thought, one of the best restorations to be seen. It was found in pieces and carted home by the present owner, who rebuilt it in 18 months.
It was a heyday for E. C. Hine and Ron Harris, of Shaftesbury, Dorset, who with their Leyland A /1 2-ton lorry carried off a whole covey of trophies. The vehicle was awarded the National Benzole Challenge Cup as overall winner of the Concours d'Elegance, the Motor Transport Challenge Cup, the Leyland Motor Corporation Challenge Trophy and the Tate and Lyle Challenge Trophy.
There was a large contingent of light vans at this year's rally. Particularly brilliant specimens of their type were two Morris Minor models, one a Royal Mail delivery van and the other a Post Office Telephone Engineers' van belonging to Mr Bambaugh of Horndean, Hampshire. One of the vehicles sported a linesman's body. by Duple, featuring the sunglass upper windscreen section which was designed to permit inspection of lines and poles without leaving the vehicle.
Another particularly fine example of a light van was a 2+-cwt Austin Seven belonging to Mr Malcom Marsh, a butcher in Welwyn, Herts. This vehicle had been owned by two brothers, who were shoe menders, from new in 1929 until 1960. In 1963 it was found derelict in a field and Mr Marsh renovated it in his own company livery and uses the vehicle partly as an advertisement and partly for light deliveries. It was elected winner in class A and collected the Commercial Motor Challenge Cup for vans and lorries under 30cwt.
There are feelings within the preservation movement that changes are overdue in the Brighton Run, and it is being suggested that, if Brighton is to be retained as the premier rally in the HCVC calendar, then entry should be controlled by a system of points awarded and based on attendance at other rallies up and down the country.