Glendinning appeal
8th May 1970
Page 28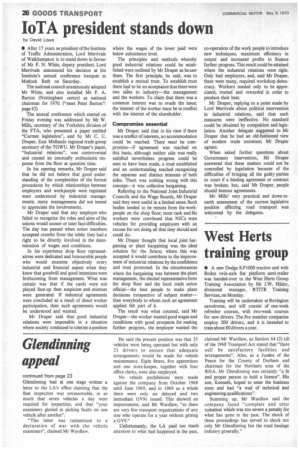 Page 28, 8th May 1970 —
Glendinning appeal
Close
continued from page 23 Glendinning had at one stage written a letter to the LA's office claiming that the fleet inspection was unreasonable, in so much that seven vehicles a day were required for inspection, and that "your examiners gloried in picking faults on one vehicle after another".
"This letter was tantamount to a declaration of war with the vehicle examiners", claimed Mr Wardlaw. He said the present position was that 35 vehicles were being operated but with only 21 drivers to ensure that adequate arrangements would be made for vehicle maintenance. Eight fitters, five apprentices and one store-keeper, together with four office clerks, were also employed.
No vehicle prohibitions were made against the company from October 1968 until June 1969, and in 1969 as a whole there were only six delayed and two immediate GV9s issued. This showed an improvement, said Mr Wardlaw, "as there are very few transport organizations of any size who operate for a year without getting a GV9."
Unfortunately, the LA paid too much attention to what had happened in the past, claimed Mr Wardlaw, as Section 64 (2) (d) of the 1968 Transport Act stated that "there will be satisfactory facilities and arrangements". Also, as a Justice of the Peace for the County of Durham and chairman for the Northern area of the RHA, Mr Glendinning was certainly "a fit and proper person to hold a licence". His son, Kenneth, hoped to enter the business soon and had "a wad of technical and engineering qualifications".
Summing up, Mr Wardlaw said the company faced "complete and utter ruination which was too severe a penalty for what has gone in the past. The shock of these proceedings has served to shock not only Mr Glendinning but the road haulage industry generally."