Pictures on the right
8th May 1970
Page 27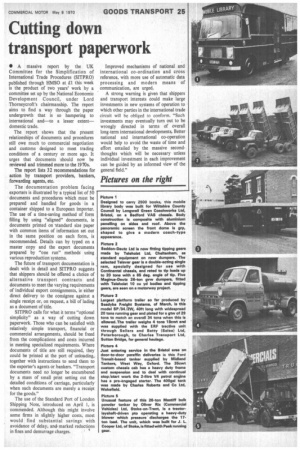 Page 27, 8th May 1970 —
Pictures on the right
Close
Picture 1 Designed to carry 2500 books, this mobile library body was built for Wiltshire County Council by Longwell preen Coachworks Ltd, Bristol, on a Bedford VAS chassis. Body construction is composite with aluminium panelling on sides and roof. Above the panoramic screen the front dome is grp, shaped to give a modern coach-type appearance.
Picture 2 Seddon-Deutt Ltd is now fitting tipping gears made by Talehoist Ltd, Cheltenham, ea standard equipment on new dumpers. The selected Telever gear is a double-acting single ram, •peclaily designed for use with Continental chassis, and rated to tip loads up to 20 tons with a 65 deg. angle of tip. Five Maglrus-Deutz 28-ton gvw dumpers, fitted with Telehoist 10 cu yd bodies and tipping gears, are seen on a motorway project.
Picture 3 Largest platform trailer so far produced by Seadyke Freight Systems, of March. Is this model SP/34/2W, 4Oft long with widespread 20 tons running gear and plated for a gtw of 29 tons to match an overall 34 tons when this is allowed. The trailer weighs 4 tons Minn arxi was supplied with the ERF tractive unit through Sellars and Batty ISales) Ltd, Peterborough, to Charles Transport Ltd, Sutton Bridge, for general haulage.
Picture 4 Just entering service In the Bristol area on door-to-door paraffin deliveries is this Ford Transit-based tanker supplied by Midland Tankers, West Way, Oxford. The 35cwt custom chassis cab has a heavy duty frame end suspension and to deal with continual stop/start work the 2-litre V4 petrol engine has a pre-engaged starter. The 400gal tank was made by Charles Roberts and Co Ltd, Wakefield.
Picture 5 Unusual feature of this 26-ton Mastiff bulk powder tanker by Oliver Rix (Commercial Vehicles) Ltd, Stoke-on-Trent, is a tractorlayshaft-driven pto operating a heavy-duty blower which pressure discharges the 17ton load. The unit, which was built for J. L Cooper Ltd, of Stoke, is fitted with Peak running gear.