Cutting down transport paperwork
8th May 1970
Page 27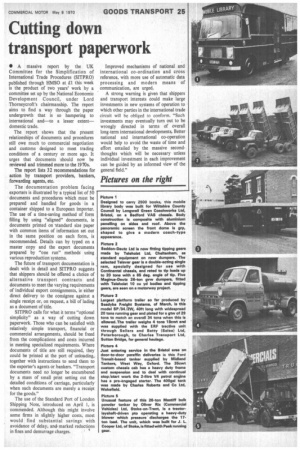 Page 27, 8th May 1970 —
Cutting down transport paperwork
Close
• A massive report by the UK Committee for the Simplification of International Trade Procedures (SITPRO) published through HMSO at El this week is the product of two years' work by a committee set up by the National Economic Development Council, under Lord Thorneycroft's chairmanship. The report aims to find a way through the paper undergrowth that is so hampering to international and—to a lesser extent— domestic trade.
The report shows that the present relationships of documents and procedures still owe much to commercial negotiation and customs designed to meet trading conditions of a century or more ago. It urges that documents should now be reviewed and trimmed more to the 1970s.
The report lists 32 recommendations for action by transport providers, bankers, forwarding agents, etc.
The documentation problem facing exporters is illustrated by a typical list of 50 documents and procedures which must be prepared and handled for goods in a container shipped to a European importer. The use of a time-saving method of form filling by using "aligned" documents, ie documents printed on 'standard size paper with common items of information set out in the same position on each form, is recommended. Details can by typed on a master copy and the export documents prepared by "one run" methods using various reproduction systems.
The future of transport documentation is dealt with in detail and SITPRO suggests that shippers should be offered a choice of alternative transport contracts and documents to meet the varying requirements of individual export consignments, ie either direct delivery to the consignee against a single receipt or, on request, a bill of lading as a document of tide.
SITPRO calls for what it terms "optional simplicity" as a way of cutting down paperwork. Those who can be satisfied with relatively simple transport, financial or commercial arrangements, should be freed from the complications and costs incurred in meeting specialized requirements. Where documents of title are still required, they could be printed at the port of unloading, together with instructions to send them to the exporter's agents or bankers. "Transport documents need no longer be encumbered by a mass of small print setting out the detailed conditions of carriage, particularly when such documents are merely a receipt for the goods."
The use of the Standard Port of London Shipping Note, introduced on April 1, is commended. Although this might involve some firms in slightly higher costs, most would find substantial savings with avoidance of delay, and, marked reductions in fines and demurrage charges.
Improved mechanisms of national and international co-ordination and cross reference, with more use of automatic data processing and modern means of communication, are urged, A strong warning is given that shippers and transport interests could make large investments in new systems of operation to which other parties in the international trade circuit will be obliged to conform. "Such investments may eventually turn out to be wrongly directed in terms of overall long-term international developments.. Better national and international co-operation would help to avoid the waste of time and effort entailed by the massive secondthoughts which will be necessary unless individual investment in each improvement can be guided by an informed view of the general field."