Milk floats on CF chassis
8th May 1970
Page 25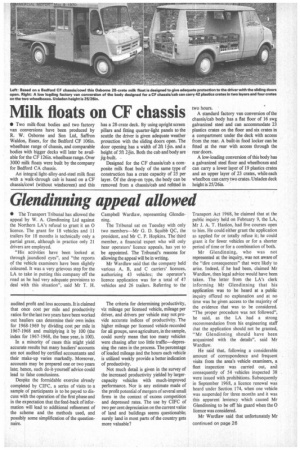 Page 25, 8th May 1970 —
Milk floats on CF chassis
Close
• Two milk-float bodies and two factory van conversions have been produced by R. W. Osborne and Son Ltd, Saffron Weldon, Essex, for the Bedford CF 106in. wheelbase range of chassis, and comparable bodies with bigger decks will later be available for the CF 126in. wheelbase range. Over 3000 milk floats were built by the company for Bedford CA chassis.
An integral light-alloy-and-steel tnilk float with a walk-through cab is based on a CF chassis/cowl (without windscreen) and this has a 28-crate deck. By using upright screen pillars and fitting quarter-light panels to the scuttle the driver is given adequate weather protection with the sliding doors open. The door opening has a width of 2ft 11n. and a height of 5ft 2fin. Both the cab and body are jig-built.
Designed for the CF chassis/cab a composite milk float body of the same type of construction has a crate capacity of 25 per layer. Of the drop-on type, the body can be removed from a chassis/cab and refitted in two hours. .
A standard factory van conversion of the chassis/cab body has a flat floor of 16 swg galvanized steel and can accommodate 23 plastics crates on the floor and six crates in a compartment under the deck with access from the rear. A built-in food locker can be fitted at the rear with access through the rear doors.
A low-loading conversion of this body has a galvanized steel floor and wheelboxes and can carry a lower layer of 19 plastics crates and an upper layer of 23 crates, while each wheelbox can carry two crates. Unladen deck height is 25/26in.