Glendinning appeal allowed
8th May 1970
Page 25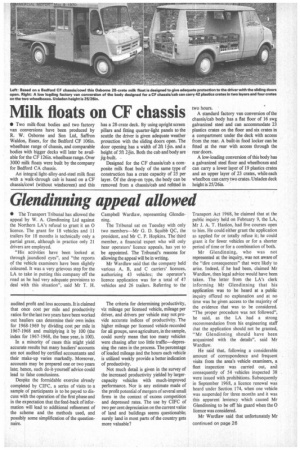 Page 25, 8th May 1970 —
Glendinning appeal allowed
Close
• The Transport Tribunal has allowed the appeal by W. A. Glendinning Ltd against the Northern LA's refusal to grant it an 0 licence. The grant for 18 vehicles and 11 trailers for 18 months is technically only a partial grant, although in practice only 21 drivers are employed.
"His activities have been looked at through jaundiced eyes", and "the reports of the vehicle examiners have been slightly coloured. It was a very grievous step for the LA to take in putting this company off the road as he had very adequate provisions to deal with this situation", said Mr T. H. Campbell Wardlaw, representing Glendinfling.
The Tribunal sat on Tuesday with only two members—Mr G. D. Squibb QC, the president, and Mr C. P. Hopkins. The third member, a financial expert who will only hear operators' licence appeals, has yet to be appointed. The Tribunal's reasons for allowing the appeal will be in writing.
Mr Wardlaw said that the company held various A, B, and C carriers' licences, authorizing 43 vehicles; the operator's licence application was for a total of 47 vehicles and 26 trailers. Referring to the Transport Act 1968, he claimed that at the public inquiry held on February 9, the LA, Mr J. A. T. Hanlon, had five courses open to him. He could either grant the application as applied for or totally refuse it; he could grant it for fewer vehicles or for a shorter period of time or for a combination of both.
Mr Glendinning, who was not represented at the inquiry, was not aware of the "dire consequences" that were likely to arise. Indeed, if he had been, claimed Mr Wardlaw, then legal advice would have been taken. The letter from the LA's clerk informing Mr Glendinning that his application was to be heard at a public inquiry Offered no explanation and at no Lime was he given access to the majority of the evidence that was to be considered. The proper procedure was not followed", he said, as the LA had a strong recommendation from his engineering staff that the application should not be granted, "Mr Glendinning should have been acquainted with the details", said Mr Wardlaw.
He said that, following a considerable amount of correspondence and frequent visits from the area's vehicle examiners, a fleet inspection was carried out, and consequently of 54 vehicles inspected 38 were issued with prohibitions. Subsequently in September 1968, a licence renewal was heard under Section 174, when one vehicle was suspended for three months and it was this apparent leniency which caused Mr Glendinning to be off his guard when the 0 licence was considered.
Mr Wardlaw said that unfortunately Mr continued on page 26