The men and the machines
8th May 1970
Page 23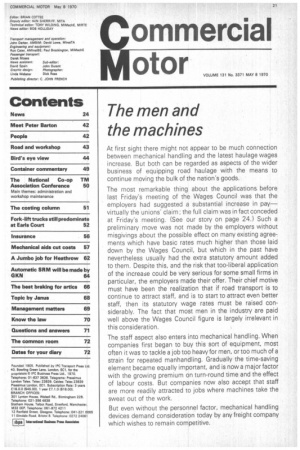 Page 23, 8th May 1970 —
The men and the machines
Close
At first sight there might not appear to be much connection between mechanical handling and the latest haulage wages increase. But both can be regarded as aspects of the wider business of equipping road haulage with the means to continue moving the bulk of the nation's goods.
The most remarkable thing about the applications before last Friday's meeting of the Wages Council was that the employers had suggested a substantial increase in pay— virtually the unions' claim the full claim was in fact conceded at Friday's meeting. (See our story on page 24.) Such a preliminary move was not made by the employers without misgivings about the possible effect on many existing agreements which have basic rates much higher than those laid down by the Wages Council, but which in the past have nevertheless usually had the extra statutory amount added to them. Despite this, and the risk that too-liberal application of the increase could be very serious for some small firms in particular, the employers made their offer. Their chief motive must have been the realization that if road transport is to continue to attract staff, and is to start to attract even better staff, then its statutory wage rates must be raised considerably. The fact that most men in the industry are paid well above the Wages Council figure is largely irrelevant in this consideration.
The staff aspect also enters into mechanical handling. When companies first began to buy this sort of equipment, most often it was to tackle a job too heavy for men, or too much of a strain for repeated manhandling. Gradually the time-saving element became equally important, and is now a major factor with the growing premium on turn-round time and the effect of labour costs. But companies now also accept that staff are more readily attracted to jobs where machines take the sweat out of the work.
But even without the personnel factor, mechanical handling devices demand consideration today by any freight company which wishes to remain competitive.