HAULIER BEATS THE BLITZ
8th May 1942
Page 22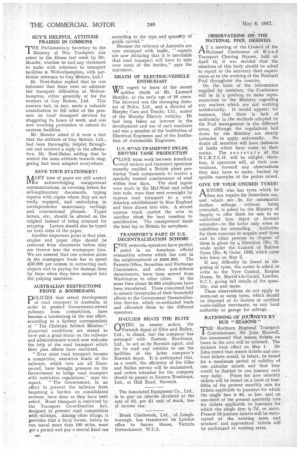 Page 22, 8th May 1942 —
HAULIER BEATS THE BLITZ
Close
OWING to enemy action, the Norwich depotof Giles and Bullen, Ltd., is closed, but the company has arranged with Eastern Roadways, Ltd., to act as its Norwich agent, and for its staff and vehicles to use the facilities of the latter company's Norwich depot. It is anticipated that, as a result', the efficiency of the Giles and Bullen service will be maintained, and orders intended for the company should be passed to Eastern Roadways, Ltd., at Hall Road, Norwich.
The Associated Equipment Co., Ltd., is to pay an interim dividend at the rate of 6d. per £1 unit of stock, free of income tax.
Brush Coachwork, Ltd., of Loughborough, has transferred its London office to Surrey House, Victoria Embankment, W.C.2.