Our Campaign Comforts Fund.
8th March 1917
Page 18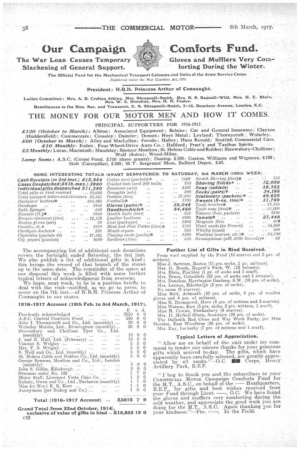 Page 18, 8th March 1917 —
Our Campaign Comforts Fund.
Close
The War Loan Causes Temporary Slackening of General Support.
Gloves and Mufflers Very Comforting During the Winter.
The Official Fund for the Mechanical Transport Columns and Units of the Army Service Corps.
,Registered under the War Charities Act, 1916.
President : H.R.H. Princess Arthur of Connaught.
Ladies Committee : Mrs. A. R. Crofton Atkins. MrsShrapnell-Smith, Mrs. R. K. Dadnall,,Wiid, Mrs. H. E. Slain, Mrs. 41: E. Donohue, Mrs. H. N. Foster.
Remittances to the Hon. Sec. and Treasurer, E. S. Shrapaell-Smith, 7-15, Rosebery Avenue, London, E.C.
THE MONEY FOR OUR MOTOR MEN AND HOW IT COMES.
PRINCIPAL SUPPORTERS FOR 1916-1917. £120 (October to March): Albion ; Associated Equipment ; Belsize ; Car and General Insurance ; Clayton (Huddersfield); Cornmercars ; Crossley ; Daimler ; Dennis ; Hoyt Metal ; Leyland; Thornycroft ; Wolseley. £60 (October to March) : Alley and MacLellan; Ferodo ; Halley; Hans Renold; Scottish Commercial Cars. £10 Monthly: Foden ; Four-Wheel-Drive Auto Co. ; Hallford ; Pratt's and Taxibus Spirits. £5 Monthly: Lucas; Macintosh ; Maudslay ; Spencer-Moulton ; St. Helens Cable and Rubber; Shrewsbury-Challiner ; Wolf (Solex); Wood-Milne. Lump Sums : A.S.C. (Corps) Fund, £710 (three grants); Dunlop, £100; Gaston, Williams and Wigmore, £100; Holt (Caterpillar), £100; MT. Sergeants' Mess, Bulford Depot, £40.
The accompanying list of additional cash donations covers the fortnight ended Saturday, the 3rd inst. We also publish a list of additional gifts in kind; this brings _the record of that branch of the stores up to the same date. The remainder of the space at our disposal this week is filled with some further typical letters of acknowledgment from overseas.
We hope, next week, to be in a position briefly to deal with the visit—notified, as we go to "-mess, to occur on the 7th inst.—of H.R.H. Princess Arthur of Connaught to our stores. Further List of Gifts in Mind Received.
From wool supplied by the Fund (10 scarves and 5 prs. of mittens). Miss J. Bertram, Reston (11 prs. socks, 1 pr. mittens). Mits. G. Brook, Regent's Park, W. (12 helmets).
Mrs. Blain, Fincbley (1 pr. of socks and 1 scarf). • Mrs. Bruce, Galashiele (10 pre. of socks and 1 sweater). Mrs. Donolnie, Harrington Gardens, S.W. (18 prs. of socks). Mrs. Lennox, Edinburgh (3 pre. of socks).
No name (5 scarves). Miss Ruit, Arbroath (10 pre: of socks, 6 prs. of woollen gloves and 4 prs. of mittens). Miss R. Drunamontl, Hove (4 prs. of mittens and 3 scarves). Miss Watson, Kew (3 prs. socks, 2 prs. mittens, 1 scarf). Miss R. Cowan, Tewkesbury (9 scarves). Mrs. D. McNeil Sharp, Scotstoun (24 prs. of socks). The Dalkeith Red Cross and War Work Party, per Miss Menzies, East Wood-bras (26 pre. of socks).
Mrs. Ray, Lockerby (7 prs. of mittens arid 1 scarf).
Typical Letters of Appreciation.
"Allow me on behalf of the unit under my command to tender our sincere thanks for your generous gifts which arrived to-day. The gifts, which have apparently been carefully selected, are greatly appreciated by all ranks."—O.C. MI Corps, Heavy Artillery Park, B.E.F. •
"I beg to thankyou and the subscribers to your CommnnciAL Moron Campaign Comforts Fund for the MT., A.S.C., on behalf of the — Headquarters, B.E.F. for gifts and best wishes received from your Vund through Lieut. —. 0.0. We have found the gloves and mufflers very Comforting during the cold weather, and appreciate the good work you are doing for the M.T. A.S.C. Again thanking you for
your kindness."—Ple. In the Field:
Tags
People
:
Blain
,
R. Drunamontl
,
A. R. Crofton Atkins
,
Bruce
,
R. K. Dadnall
,
H. N. Foster
,
Ray
,
Arthur
,
Donolnie
,
Hans Renold
,
J. Bertram
,
R. Cowan
,
E. S. Shrapaell-Smith