riving Gear Solves War-works Problem
8th June 1945
Page 31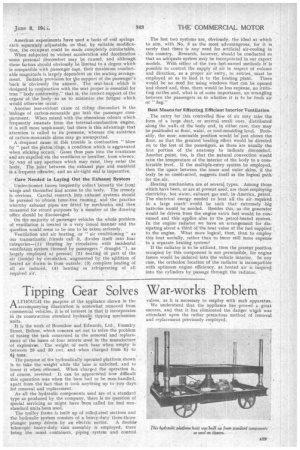 Page 31, 8th June 1945 —
riving Gear Solves War-works Problem
Close
ALTHOUGH the purpose of the appliance shown in the accompanying illustration is somewhat removed from commercial vehicles, it is of interest in -that it incorporates in its construction standard hydraulic tipping mechanism
• units.
It is the work of Brornilow and Edwards, Ltd., Foundry Street, Bolton, which concern set out to solve the problem of 'easing the task concerned in the removal and replacement of the bases of four retorts used in the manufacture' of explosives. The weight. of each base when empty is between 20 -and 30 cwt. and when charged from 5 to 6i tons. The purpose of the hydraulically operated platform shown is to takethe weight while the base is unbolted, and to lower it when released. When charged the operation is,. of course, reversed .It 'can be appreciated how difficult this operation was when the base had to be man-handled, apart from the fact that it took anything up to two days fof removal and replacement."
As all the hydraulic components used are of •a standard type as produced by the company, there is no question of special servicing as might have been called for had nonstandard units been used.
The trolley frame is built up of rolleef-steel sections and the hydraulic system consists 'of a heavy-duty three-throw plunger pump driven by an electric motor. A doublet telescopic heavy-duty ram assembly is employed, there being the usual containers, piping system and control valves, as,it is necessary to employ with such apparatus.
We understand that the appliance has 'proved a great success, and that it has eliminated the danger which was attendant upon the rather -precarious method of removal and replacement previously employed.