R.I.A. Hits Out at Government , Road Policy A CCORDIN G to the
8th June 1945
Page 23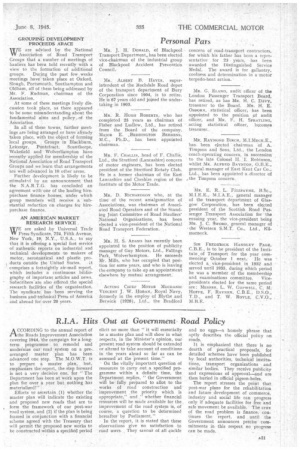 Page 23, 8th June 1945 —
R.I.A. Hits Out at Government , Road Policy A CCORDIN G to the
Close
annual report of the Roads Improvement Association covering 1914, 'the campaign for a longterm programme to remodel and modeinize our road system on a pre-_ arranged master plan has been advanced one step. The M.O.W,T. is to prepare a master plan, but, emphasizes the report, the step forward is not a very decisive one, for " The Department has been at work upon the plan for over a year but nothing has materialized!"
Efforts to ascertain (I) whether the master plan will indicate the existing and proposed new roads that are to , form the framework of our post-war road system, and (2) if the plan is being framed in conjunction with a financial scheme agreed with the Treasury that -will permit the proposed new works to be constructed within a specified period elicit no more than " it will essentially be a master plan and will show in what respects, in the Minister's opinion, our present road system should be extended or altered to take account of conditions in the years ahead so far as can be assessed at the 'present time."
' On the vitally important question of resources to carry out ,a specified programme within a definite time, the Department replies, " the Government will be fully prepared to allot to the works of road construction and improvement ,the priority which is appropriate," and " whether financial resources will be made available for the improvement of the road system is, of course, a question to be determined hereafter by Parliament."
In the report, it is stated that these observations give no satisfaction to road users. , They savour of all cackle and no eggs—a homely phrase that aptly describes the official policy on roads.
It is emphasized that there is no dearth of practical proposals, for detailed schemes have been published by local authorities, technical institutions, transport organizations and similar bodies_ They receive publicity and expressions of approval—and are then buried in official pigeon-holes.
The report stresses the point that post-war plans for the rehabilitation and future development of commerce, industry and social life can progress only if adequate facilities for free and safe movement be available. The crux of the road problem is finance, continues the report, and until the Government announces precise commitments in this respect no progress can be made.