One Hears
8th June 1945
Page 19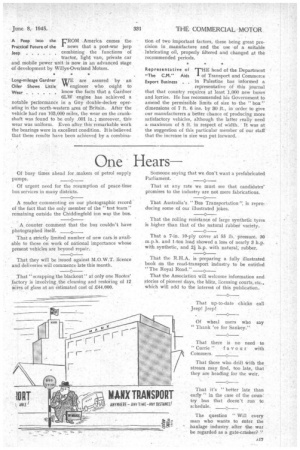 Page 19, 8th June 1945 —
One Hears
Close
Of busy times ahead for makers of petrol supply pumps.
Of urgent need for the resumption of peace-time bus services in many districts.
A reader commenting on our photographic record of the fact that the only member of the "test team" remaining outside the Chiddingfold inn wae the bus.
A counter comment that the bus couldn't have photographed itself. 0 That a strictly limited number of new cars is available to those on work of national importance whose present vehicles are beyond repair.• That they will be issued against M.O.W.T. licence and deliveries will commence late this month.
That "scrapping the blackout" at only one Rootes' factory is involving the cleaning and restoring of 12 acres of glass at an estimated cost of £44000. Someone saying that we don't want a prefabricated Parliament.
That at any rate we must see that candidates' promises to the industry are not mere fabrications.
That Australia's "Bus Transportation", is reproducing some of our illustrated jokes.
That the rolling resistance of large synthetic tyres is higher than that of the natural rubber variety.
That a 7-in. 10-ply cover at 55 lb: pressure, 30 m.p.h. and 1-ton load showed a loss of nearly 3 h.p. with synthetic, and 2i h.p. with natural, rubber.
That the R.H.A. is preparing a fully illustrated book On the road-transport industry to be entitled "The Royal Road."
That the Association will welcome information and stories of pioneer days, the blitz, licensing courts, etc., which will add to the interest of this publication.
That up-to-date •chicks call Jeep! Jeep!
Of wheel users who say "Thank 'ee for Sankey."
That there is no need to " Currie " favour with Cornmers.
That those who drift With the stream may find, too late, that they are heading for the weir.
That it's "better late than early " in the case of the cowl-try bus that doesn't run to
schedule.
The question "Will every man who wants to enter the haulage industry after the war be regarded as a gate-crasher? "