In a Line or Two
8th July 1955
Page 75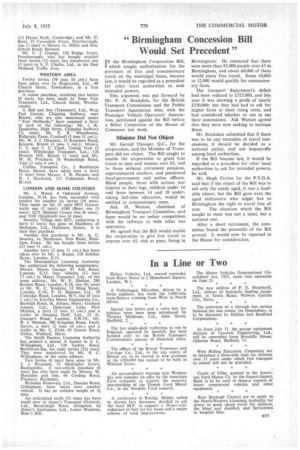 Page 75, 8th July 1955 —
In a Line or Two
Close
Helecs Vehicles, Ltd., moved yesterday from Baker Street to 2 Manchester Square, London, W.I.
A Volkswagen Microbus, driven by a Swiss engineer, has made the 3,400-mile trans-Sahara crossing from West to North Africa,
Special tyre levers and a valve key for tubeless tyres have been introduced by Thomas Meldrum, Ltd., John Street,
Sheffield, 2..
The last single-deck trolleybus to run in England, operated by Ipswich, has been handed over to the !British Transport Commission's curator of historical relics.
The offices of the Bristol Tramways and Carriage Co.. Ltd., in the city centre of Bristol are to be moved to new premises at the £200.000 bus station to be built in Whitson Street.
An extraordinary meeting next Wednesday will consider an offer by the American Ford company to acquire the majority shareholding of the Daaish Ford Motor Co., in the Swedish Ford concern.
A conference in Ruislip, Middx, called to discuss fare increases, decided to ask the' local M.P. to support a 50-per-cent. reduction in fuel tax for buses and a major scheme of road improvement. The Motor Vehicles (International Circulation) Act, 1952, came into operation on June 21.
The new address of F. E. Weatherili, Ltd,. makers of hydraulic loading equipment, is Tesvin Road, Welwyn Garden City, Herts.
The provision of a through bus service between the two towns, via Queensbury, is to be discussed by Halifax and Bradford Corporations.
As from July 11, the garage equipment division of Laycock Engineering, Ltd., will be controlled from Brincliffe House, Osborne Road, Sheffield, 11.
West Riding Education Committee are to introduce a three-mile limit for children over 11 years under which free transport to school will not be provided.
Credit of SlOrn, granted to the American Ford Motor Co. by the Export-Import Bank is to be used to finance exports of heavy commercial vehicles and other equipment.
Bury Borough Council are to apply to the North-Western Licensing Authority for power to grant cheap travel for children, the blind and disabled, and Servicemen in hospital blue.