"Birmingham Concession Bill Would Set Precedent"
8th July 1955
Page 75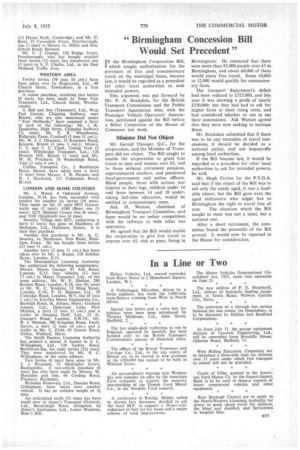 Page 75, 8th July 1955 —
"Birmingham Concession Bill Would Set Precedent"
Close
IF the Birmingham Corporation Bill, I which sought authorization for the provision of free and concessionary travel on the municipal buses, became law, it would be regarded as a precedent for other local authorities to seek extended powers.
This argument was put forward by Mr. F. A. Stockdale, for the British Transport Commission and the Public Transport Association who, with the Passenger Vehicle Operators' Association, petitioned against the Bill before a Select Committee of the House of Commons last week.
Minister Did Not Object Mr. Gerald Thesiger, Q.C., for the corporation, said the Minister of Transport did not object. The Bill sought to enable the corporation to grant free travel to men and women over 65, and to those without retirement pensions, superannuated teachers, and pensioned local-government and police officers. Blind people, those with serious war injuries to their legs, children under 14 and those between 14 and 18 undertaking full-time education, would be entitled to concessionary rates.
Aid. H. Watton, chairman of Birmingham Transport Committee, said there would be no unfair competition with the railways or with other bus operators.
He agreed that the Bill would enable the corporation to give free travel to anyone over 65, rich or poor, living in Birmingham. He estimated that there were more than 82,000 people over 65 in Birmingham, and about 60,000 of them would enjoy free travel. Some 10,000 to 12,000 would qualify for concessionary fares.
The transport department's deficit had been reduced to 1325,004, and this year it was showing a profit of nearly E250,000; but they had had to ask for higher fares to meet rising costs, and had considered whether or not to cut their concessions. Aid. Walton agreed' that they were now seeking to increase these.
Mr. Stockdale submitted that if there was to be any extension of travel concessions, it should be decided as a national policy, and not hapazardly among local authorities.
If the Bill became law, it would be regarded as a precedent for other local authorities to ask for extended powers. he said.
Mr. Hugh Forbes for the P.V.O.A. said that if the object of the Bill was to aid only the needy aged, it was a laudable object; but the Bill gave even the aged millionaire who might live in Birmingham the right to travel free of cost. The situation which the Bill sought to meet was not a local, but a national one.
After a short retirement, the committee found the preamble of the Bill proved. It would now be reported to the House for consideration.