New P.S.V. Regulations Coming
8th July 1955
Page 66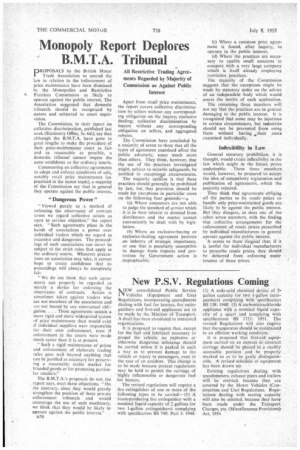 Page 66, 8th July 1955 —
New P.S.V. Regulations Coming
Close
MEW consolidated Public Service Vehicles (Equipment and Use) Regulations, incorporating amendments dealing with fuel for heaters, fire extinguishers and first-aid appliances are to be made by the Minister of Transport. A draft has been circulated to interested organizations.
It is proposed to require that, except for the fuel and lubricant necessary to propel the vehicle, no explosive or otherwise dangerous substanse should be carried unless it is packed in such a way as to prevent damage to the vehicle or injury to passengers, even in the case of an accident. This change is to be made because present regulations may be held to permit the carriage of highly inflammable or dangerous fuel for heaters.
The revised regulations will require a fire extinguisher of one or more of the following types to be carried:—(1) A foam-producing fire extinguisher with a nominal liquid capacity of 2 gallons (or two 1-gallon extinguishers) complying with specification BS 740: Part 1: 1948.
(2) A soda-acid chemical device of 2gallon capacity (or two 1-gallon extinguishers) corriPlying with -specification BS 138: 1948. (3) A carbontetrachloricie appliance with a nominal liquid capacity of a quart and complying with specifications BS 1721: 1951. The revised Regulations will also require that thesipparatus should be maintained in an efficient working condition.
It is proposed that first-aid equipment carried on an express Or contract carriage should be plaCcd in a readily accessible position and be properly marked so as fo be easily distinguishable. 'A revised schedule of 'equipment has been drawn up.
Existing regulations dealing with speedometers, exhaust pipes and trailers will be omitted, because they are covered by the Motor Vehicles (Construction and Use) Regulations. Regulations dealing with seating capacity will also be omitted, because they have been made under the Transport Charges, etc. (Miscellaneous Provisions) Act, 1954.