Moving Hemmed-in Vehicles
8th July 1955
Page 61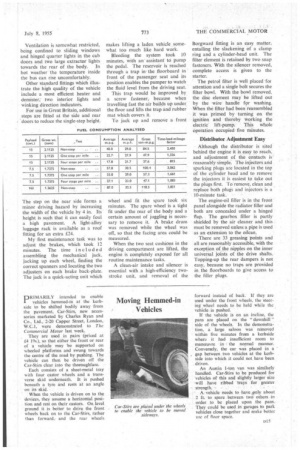 Page 61, 8th July 1955 —
Moving Hemmed-in Vehicles
Close
DRIMARILY intended to enable vehicles hemmed-in at the kerbside to be shifted bodily away from the pavement, Car-Stirs, new accessories marketed by Charles Ryan and Co., Ltd., 2-20 Capper Street, London, W.C.1, were demonstrated to The Commercial Motor last week.
They arc used in pairs (priced at £4 19s.), so that either the front or rear of a vehicle may be supported on wheeled platforms and swung towards the centre of the road by pushing. The Vehicle can then be driven off the Car-Stirs clear into the thoroughfare.
Each consists of a sheet-metal tray with four castor wheels and a transverse skid underneath. It is pushed beneath a tyre and rests at an angle on its skid.
When the vehicle is driven on to the devices, they assume a horizontal position and rest on their castors. On level ground it is better to drive the front wheels back on to the Car-Stirs, rather than forward, and the rear wheels
forward instead of back. If they are used under the front wheels, the steering wheel needs to be held while the vehicle is pushed.
If the vehicle is on an incline, the pans are placed on the " downhill " side of the wheels. In the demonstration, a large saloon was removed within five minutes from a kerbside where it had insufficient room to manceuvre in the normal manner. Conversely, the car was placed in a • gap between two vehicles at the kerbside into which it could not have been driven.
An Austin 1-ton van was similarly handled. Car-Stirs to be produced for vehicles of this and slightly larger size
• will have ribbed 'trays for greater strength.
• A vehicle needs to have only about 2 ft. to spare between two others in order to be placed upon the pans. They could be used in garages to park vehicles close together and make better ti$e of floor space.