Versatility in Van
8th July 1955
Page 57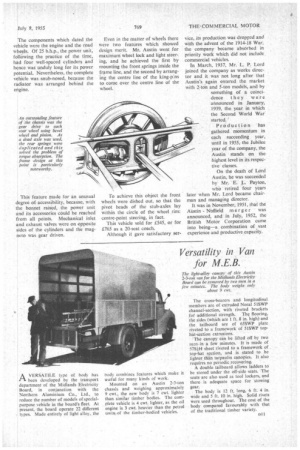 Page 57, 8th July 1955 —
Versatility in Van
Close
for M.E.B.
A rlv VERSATILE type of body has been developed by the transport department of the Midlands Electricity Board, in conjunction with the Northern Aluminium Co., Ltd., to reduce the number of models of specialpurpose vehicle in the board's fleet. At present, the board operate 22 different types. Made entirely of light alio), the
body combines features which make it useful for many kinds of work.
Mounted on an Austin 2-3-ton chassis and weighing approximately 9 cwt., the new body is 7 cwt. lighter than similar timber bodies. The complete vehicle is 4 cwt. lighter, as the oil engine is 3 cwt. heavier than the petrol units of the timber-bodied vehicles. The cross-bearers and longitudinal members are of extruded Noral 51SWP channel-section, with riveted brackets for additional strength. The flooring, the sides (which are 1 ft. 8 in. high) and the tailboard are of 65SWP plate riveted to a framework of 51SWP tophat-section extrusions.
The canopy can be lifted off by two men in a few minutes. It is made of 57S41-1 sheet riveted to a framework of top-hat section, and is stated to be lighter than tarpaulin canopies. It also requires no periodic recovering. A double tailboard allows ladders to be stored under the off-side seats. The seats are also used as tool lockers, and there is adequate space for stowing gear.
The body is 12 ft. long, 6 ft. 4 in. wide and 5 ft. 10 in. high. Solid rivets were used throughout. The cost of the body compared favourably with that of the traditional timber variety.