Two Appeals Fail : Third Pending
8th July 1955
Page 53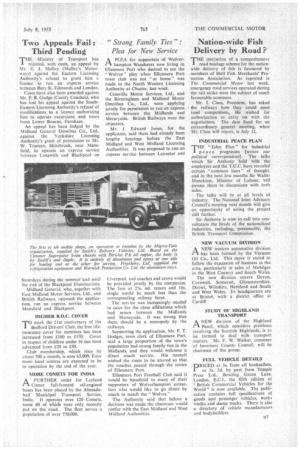 Page 53, 8th July 1955 —
Two Appeals Fail : Third Pending
Close
THE Minister of Transport has rejected, with costs, an appeal by Mr. E. J. Mullcy (Mulley's Motorways) against the Eastern Licensing Authority's refusal to grant him a licence to run an express service between Bury St. Edmunds and London.
Costs have also been awarded against Mr. E. R. Gudge (Comfy Coaches), who has lost his appeal against the SouthEastern Licensing Authority's refusal of modifications to a licence authorizing him to operate excursions and tours from Lower Bourne, Farnham.
An appeal has been lodged by the Midland General Omnibus Co., Ltd., against the Yorkshire Licensing Authority's grant of permission to Mr. W. Truman, Shirebrook, near Mansfield, to operate an express service hetween Langwith and Blackpool on
Saturdays during the summerand until the end of the Blackpool Illuminations.
Midland General, who, together with East Midland Motor Services, Ltd., and British Railways, opposed the application, run an express service between Mansfield and Blackpool.
HIGHER B.D.C. COVER
Prmark the 21st anniversary of the Bedford Drivers' Club, the free lifeinsurance cover for members has been increased from £100 to £150. Cover in respect of children under 16 has been advanced from £20 to £30.
Club membership, which rises by about 500 a month, is now 63,000. Four more local centres are expected to be in operation by the end of the year.
MORE COMETS FOR INDIA
1-3. A FURTHER order for Leyland Comet full-fronted oil-engined buses has been placed by the Ahmadabad Municipal Transport Service, India. It operates over 120 Comets, some 60 of which were only recently put on the road. The fleet serves a population of over 750,000.