"Strong Family Ties" : Plea for New Service
8th July 1955
Page 53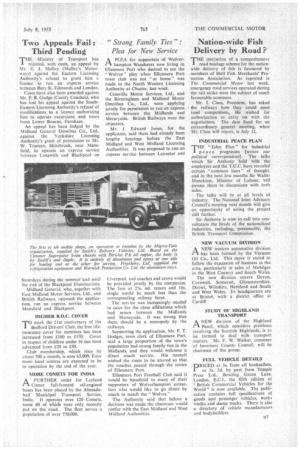 Page 53, 8th July 1955 —
"Strong Family Ties" : Plea for New Service
Close
A PLEA for supporters of Wolver
hampton Wanderers now living in Ellesmere Port who desired to see the " Wolves" play when Ellesmere Port town club was not "at home" was made to the North Western Licensing Authority at Chester, last week.
Crosville Motor Services, Ltd., and the Birmingham and Midland Motor Omnibus Co., Ltd., were applying jointly for permission to run an express service between the Midlands and Merseyside. British Railways were the objectors.
Mr. J. Edward Jones, for the applicants, said there had already been lengthy hearings before the East Midland and West Midland Licensing Authorities. It was proposed to run an express service between Leicester and Liverpool, and coaches and crews would be provided jointly by the companies. The fare at 25s. 6d. return and 16s. single would be much less than the corresponding railway fares.
The service was increasingly needed to cater for the close affiliations which had arisen between the Midlands and Merseyside. It was wrong that there should be a monopoly by the railways.
Supporting the application, Mr. P. T. Hodges, town clerk of Ellesmere Port, said a large proportion of the town's population had strong family ties in the Midlands, and they would welcome a direct coach service. His council wished the route to be altered so that the coaches passed through the centre of Ellesmere Port.
Ellesmere Port Football Club said it vvould be beneficial to many of their supporters of Wolverhampton extraction who would like to go direct by coach to watch the "Wolves."
The Authority said that before a decision was made the chairman would confer with the East Midland and West Midland Authorities.