Nation-wide Fish Delivery by Road ?
8th July 1955
Page 53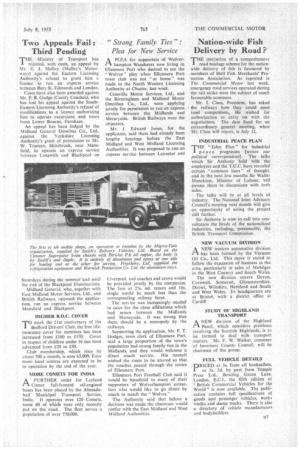 Page 53, 8th July 1955 —
Nation-wide Fish Delivery by Road ?
Close
THE institution of a comprehensive
road haulage scheme for the nationwide delivery of fish is favoured by members of Hull Fish Merchants' Protection Association. As reported in The Commercial Motor last week, emergency road services operated during the rail strike were the subject of much favourable comment.
Mr. I. Class, President, has .asked 1 the railways how they could meet road competition, He wished for authorization to carry on with the negotiations. The date fixed for an extraordinary general meeting, when Mr. Class will report, is July 12.
INDUSTRIAL PEACE PLAN
THE "Eden Plan" for industrial peace progresses [writes our political correspondent]. The talks which Sir Anthony held with the employers and the T.U.C. have revealed certain "common lines" of thought. and in the next few months Sir Walter Monckton, Minister of Labour, will pursue them in discussions with both sides.
The talks will be at all lev'els of industry. The National Joint Advisory Council's meeting next month will give an opportunity of airing the project still further.
Sir Anthony is now to call into consultation the heads of the nationalized industries, including, presumably, the British Transport Commission.
NEW VACUUM DIVISION
riA NEW western automotive division has been formed by the Vacuum Oil Co., Ltd. This move is stated to follow the expansion of business in the area, particularly in sales of Mobilgas in the West Country and South Wales.
The new division covers Devon, Cornwall, Somerset, Gloucestershire, Dorset, Wiltshire, Hereford and South and West Wales. Its headquarters are at Bristol, with a district office at Cardiff,
STUDY OF HIGHLAND TRANSPORT
A NEW division of the Highland Panel, which considers problems involving the Scottish Highlands, is to be formed to deal with transport matters. Mr. E. W. Walker, convener of Inverness County Council, will be chairman of the group.
FULL VEHICLE DETAILS
PRICED at 3s. from all booksellers, 1 or 3s. 3d. by post from Temple Press Ltd., Bowling Green Lane. London, EC.1, the fifth edition of " British Commercial Vehicles for the World" is now available. The publication contains full specifications of goods and passenger vehicles, works trucks and dump trucks. There is also a directory of vehicle manufacturers and bodybuilders.