"Misleading Figures" Alleged
8th July 1955
Page 52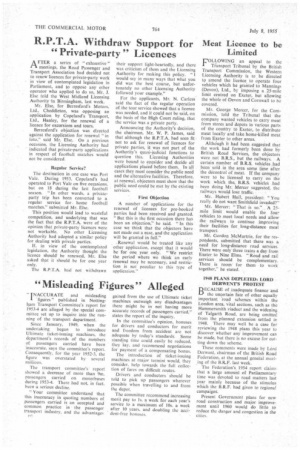 Page 52, 8th July 1955 —
"Misleading Figures" Alleged
Close
'INACCURATE and misleading 1 figures" published in Nottingham Transport Committee's report for 1953-4 are alleged by the special committee set up to inquire into the running of the transport department.
Since January, 1949. when the undertaking began to introduce Ultimate ticket-issuing machines, the department's records of the numbers of passengers carried have been inaccurate, says the committee's report. Consequently, for the year 1952-3, the figure was overstated by several millions.
The transport committee's report showed a decrease of more than 9m, passengers carried on motorbuses during 1953-4. There had not, in fact. been a serious decline.
" Your committee understand that this inaccuracy in quoting numbers of passengers carried is an accepted and common practice in the passenger transport industry, and the advantages
gained from the usc of Ultimate ticket machines outweigh any disadvantages there might be in not having more accurate records of passengers carried,states the report of the inquiry.
In the committee's opinion, bonuses for drivers and conductors for merit and freedom from accident arc not adequate by today's standards. Some standing time could easily be reduced, they hay. and recommend negotiations for payment of a compensating bonus.
The introduction of ticket-issuing machines at major termini would, they consider, help towards the full collection of fares on difficult routes.
Drivers and conductors• should be told to pick up passengers wherever possible when travelling to and from the depot, The committee recommend increasing merit pay to Is. a week for each year's service to a maximum of I0s. a week after 10 years. and doubling the accident-free bonuses,