Monopoly Debate Net Week ?
8th July 1955
Page 51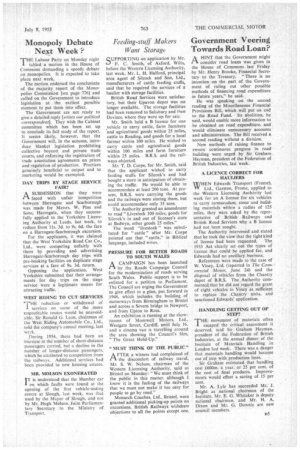 Page 51, 8th July 1955 —
Monopoly Debate Net Week ?
Close
Keywords :
Counties Of England
,
Geography Of England
,
Local Government In England
,
Harrogate
,
West Yorkshire Road Car Company
,
Scarborough, North Yorkshire
,
Slough
,
Yorkshire
,
Scarborough
,
Politics
THE Labour Party on Monday night tabled a motion in the House of Commons demanding a speedy debate on monopolies. It is expected to take place next week.
The motion endorsed the conclusions of the majority report of the Monopolies Commission [see page 7761 and called on the Government to introduce legislation at the earliest possible moment to put them into effect.
The Government are not ready to give a detailed reply [writes our political correspondent]. They wish the Cabinet committee which has been set up ts.) conclude its full study of the report. It seems likely, however, that the Government will, in the autumn, introduce blanket legislation prohibiting collective boycott and private trade courts, and enforcing the registration of trade association agreements on prices and regulation of production. Practices genuinely beneficial to output and to marketing would be exempted.
DAY TRIPS BY STAGE SERVICE FAIR?
A SUBMISSION that they were Ins faced with unfair competition between Harrogate and Scarborough was made for Messrs. W. Pine and Sons, Harrogate, when they successfully applied to the Yorkshire Licensing Authority at Leeds. last week, to reduce from Us. 3d. to 9s. 6d. the fare on a Harrogate-Scarborough excursion.
for the applicants, it was claimed that the West Yorkshire Road Car Co., Ltd., were competing unfairly with them by providing and advertising Harrogate-Scarborough day trips with pre-booking facilities on duplicate stage services at a fare of 9s. 3d. return.
Opposing the application. West Yorkshire submitted that their arrangements for day trips on the stage service were a legitimate means for attracting traffic.
WEST RIDING TO CUT SERVICES THE reduction or withdrawal of 1 services on some of the more unprofitable routes would be unavoidable. Sir Ronald G. Leon. chairman of the West Riding Automobile Co., Ltd., told the company's annual meeting, last
During 1954, there had been an increase in the number of short-distance passengers carried, hut a decline in the number of longer-distance passengers, which he attributed to competition from the railways. Additional services had been provided to new housing estates.
MR. MOLSON EXONERATED
I T is understood that the Humber car on which faults were found at the opening of the first vehicle-testing centre at Slough, last week. was that used by the Mayor of Slough, and not by Mr. Hugh Molson, Joint Parliamentary Secretary to the Ministry of Transport.