Feeding-stuff Makers Government Veering Want Storage Towards Road Loan?
8th July 1955
Page 51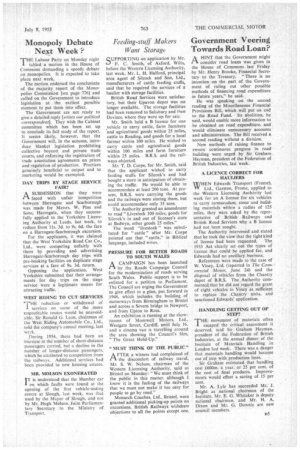 Page 51, 8th July 1955 —
Feeding-stuff Makers Government Veering Want Storage Towards Road Loan?
Close
SUPPORTINCi an application by Mr. F. C. Smith, of Axford, Wilts, before the Western Licensing Authority, last week, Mr. L. H. Halford, principal area agent of Silcock and Son, Ltd., manufacturers of cattle feeding stuffs, said that he required the services of a haulier with storage facilities.
British Road Services were satisfactory, but their Upavon depot was no longer available. The storage facilities had been removed to Salisbury and then Devizes, where they were up for sale.
Mr. Smith held a B licence for one ,vehicle to carry cattle, farm furniture and agricultural goods within 25 miles, cattle to Reading, and goods for a local farmer within 100 miles. He wished to carry cattle and agricultural goods within 100 miles and farm furniture within 25 miles. B.R.S. and the railways objected.
Mr. T. D. Corpe, for Mr. Smith, said that the applicant wished to carry feeding stuffs for Silcock's and had bought a store in anticipation of obtaining the traffic. He would be able to accommodate at least 200 tons. Al present, B.R.S. were carrying the goods and the railways were storing them, but could accommodate only 35 tons.
The Authority granted an amendment to read "Livestock 100 miles, goods for Siicock's in and out of licensee's store at Bedwyn, other goods 25 miles."
The word "livestock" was substituted for " cattle " after Mr. Corpe pointed out that "cattle," in Biblical language, included wives.
PRESSURE FOR BETTER ROADS TO SOUTH WALES
A CAMPAIGN has been launched by the Roads Campaign Council for the modernization of roads serving South Wales. Public support is to be enlisted for a petition to Parliament. The Council are urging the Government to give effect to a plan, put forward in .1946, which includes the building of motorways from Birmingham to Bristol and across a Severn bridge to Newport, and from Upton to Ross.
An exhibition is running at the showrooms of Moorwell Motors, Ltd., Westgate Street, Cardiff, unfit July 16. and a cinema van is travelling around the area showing the Council's film, "The Great Hold-Up."
"MUST THINK OF THE PUBLIC"
AFIER a witness had complained of the discomfort of railway travel, Mr. S. W. Nelson, chairman of the Western Licensing Authority, said at Bristol on Monday: "We must think of the public in this matter, although I know it is the feeling of the railways that we must not make it too easy for people to go by road."
Monarch Coaches, Ltd., Bristol, were granted additional picking-up points on excursions. British Railways withdrew objections to all the points except one.