A HINT that the Government might consider road loans was
8th July 1955
Page 51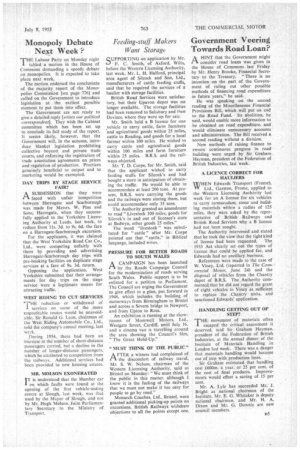 Page 51, 8th July 1955 —
A HINT that the Government might consider road loans was
Close
given in the House of Commons last Friday by Mr. Henry Brooke, Financial Secretary to the Treasury. "There is no intention on the part of the Government of ruling out other possible methods of financing road expenditure in future years," he said.
He was speaking on the second reading of the Miscellaneous Financial Provisions Bill, which will put an end to the Road Fund. Its abolition, he said, would enable more information to be obtained on road expenditure and would eliminate unnecessary accounts and administration. The Bill received a second reading without a division. • New methods of raising finance to ensure continuous progress in road building were urged by Sir -Graham Hayman, president of the Federation of British Industries, last week.
A LICENCE CORRECT FOR HAULIERS
WHEN Edwards Transport (Rome), Ltd., Garston, .Frome, applied to the Western Licensing Authority last week for an A licence for six vehicles to carry tarmacadam, stone and building materials within a radius of 125 miles, they were asked by the representative of British Railways and British Road Services why a B licence had not been sought.
The Authority intervened and stated that he took the view that the right kind of licence had been requested. The 1933 Act clearly set out the types of licence that could be applied for, and Edwards had no ancillary business.
References were made to the case of W. Viney, Ltd. (reported in The Com. mercial Motor, June 24) and the disposal of vehicles from the Chantry depot of B.R.S. The Authority commented that he did not regard the grant of eight vehicles to Viney as sufficient to replace the Chantry units, and sanctioned Edwards' application.
HANDLING GETTING OUT OF STEP?
THE movement of materials often escaped the Critical assessment it deserved. said Sir Graham Hayman. president of the Federation of British Industries, at the annual dinner of the Institute of Materials Handling in London last week. There was a danger that materials handling would become out of step with production lines.
Sir Graham estimated that handling cost £600m. a year, or 25 per cent, of the cost of final products. Improvements would effect a saving of 15 per cent.
Mr. A. Lyle has succeeded Mr. J. Bright as national chairman of the Institute. Mr. E. G. Whitaker is deputy national chairman, and Mr. H. A. Dixon and Mr. G. Downie are new council members.