"Disappointing Year" Jr Ribble
8th July 1955
Page 50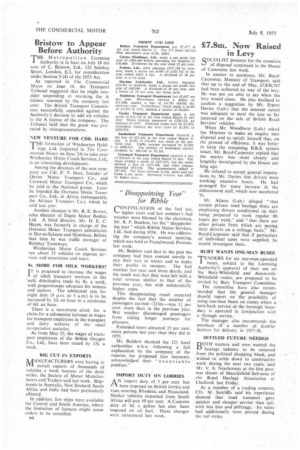 Page 50, 8th July 1955 —
"Disappointing Year" Jr Ribble
Close
CONTINUATION of the fuel tax. higher costs and last summer's had weather were blamed by the chairman, Mr. R. P. Beddow, for the "disappointing year" which Ribble Motor Services, Ltd., had during 1954. He was addressing the company's annual meeting, which was held at Frenchwood. Preston, last week.
Mr. Beddow said that in the past the company had been content merely to pay their way in winter and to make their profits in summer. The bad weather last year cost them dearly, and the result was that they were left with a total revenue similar to that of the previous year, but with substantially higher costs.
This disappointing result occurred despite the fact that the number of passengers carried-213m,--was 1,1 per cent. more than in the previous year. Wet weather discouraged passengers from taking longer journeys for pleasure.
Extended tours attracted 25 per cent. more patrons last year than they did in 1953.
Mr. Beddow thanked the 121 local authorities w h o, following a full explanation by the company of the reasons for proposed fare increases, acknowledged their "unenviable position."
IMPORT DUTY ON LORRIES
AN import duty of 5 per cent. has been imposed on British lorries and vans entering Rhodesia and Nyasaland. Similar vehicles imported from South Africa will pay 10 per cent. A Customs duty of 3d. a gallon has also been imposed on oil fuel. These changes were announced last week.