£7.8rn. Now Raised in Levy
8th July 1955
Page 50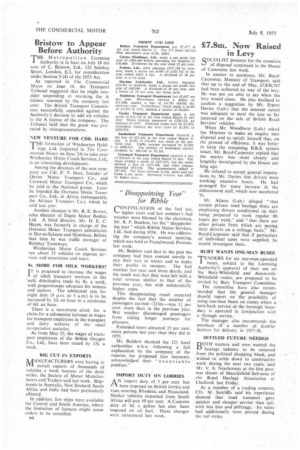 Page 50, 8th July 1955 —
£7.8rn. Now Raised in Levy
Close
SOCIALIST pressure for the cessation of disposal continued in the House of Commons last week.
In answer to questions, Mr. BoydCarpenter, Minister of Transport, said that up to the end of May, 17,830,747 had been collected by way of the levy. He was not yet able to say when the levy would cease. He also declined to confirm a suggestion by Mr. Ernest Davies (Lab.) that the amount raised was adequate to meet the loss so far incurred on the sale of British Road Services' vehicles.
When Mr. Woodburn (Lab.) asked the Minister to make an inquiry into disposal and to satisfy himself that, on the ground of efficiency, it was better to keep the remaining B.R.S. system intact, Mr. Boyd-Carpenter replied that the matter was most closely and lengthily investigated by the House not long ago.
He refused to accept general imputations by Mr. Davies that drivers were working excessive hours. He had arranged for some increase in the enforcement staff, which now numbered 76.
Mr. Allaun (Lab.) alleged " that certain private road haulage firms arc employing drivers conditional on their being prepared to work regular 86 hours per week," and that there are other private firms which are paying their drivers on a mileage basis." Mr. Boyd-Carpenter said that if particulars of individual cases were supplied, he would investigate them.
BURY WANTS ONE-MAN BUSES
TENDERS for six one-man-operated
buses, subject to the Licensing Authority's approval of their use on the Bury-Whitefield and AinsworthWhitetield routes, are proposed to be invited by Bury Transport Committee.
The committee have also recommended that the general manager should report on the possibility of using one-man buses on routes where a turn-back service at the borough boundary is operated in conjunction with a through service.
The manager also recommends the purchase of ' a number of doubledeckers for delivery' in 1957-58.
SETTLED FUTURE NEEDED BOTH masters and men wanted the haulage industry to be removed from the political chopping block, and wished to settle down to constructive work during the next two years, said Mr. V. A. Neatherway at the first post-war dinner of Macclesfield Sub-area of the Road Haulage Association at Chelford, last Friday.
As a member of a trading concern, Clle M. Sutcliffe said his experience 'showed that road transport gave quicker and cheaper service than rail, seith less loss and pilferage. 'Its value had additionally been proved during the rail strike.