Radio Speeds B.R.S. Parcels Traffic
8th July 1955
Page 49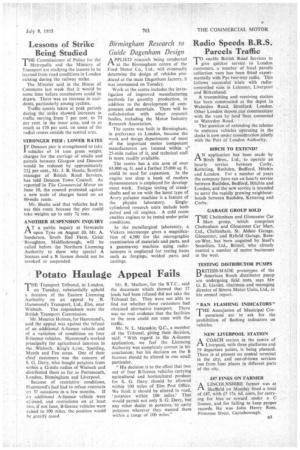 Page 49, 8th July 1955 —
Radio Speeds B.R.S. Parcels Traffic
Close
To enable British Road Services to give quicker service to London customers, a number of local parcels collection vans has been fitted experimentally with Pye two-way radio. This follows successful trials with radiocontrolled vans in Leicester, Liverpool and Birkenhead.
A transmitting and receiving station has been constructed at the depot in Waterden Road, Stratford, London. Other London depots .can communicate with the vans by land lines connected to Waterden Road.
The question of extending the scheme to embrace vehicles operating in the docks is now under consideration jointly with the Port of London Authority.
BIRCH TO EXTEND?
AN application has been made by Birch Bros., Ltd., to operate an hourly service between Corby, Kettering, Rushden, Bedford, Hitchin and London. For a number of years the company have run an hourly service between Rushden, Bedford, Hitchin and London, and the new service is intended to serve the rapidly growing neighbourhoods between Rushden. Kettering and Corby.
GARAGE GROUP SOLD
THE Cheltenham and Gloucester Car Mart group, which comprises Cheltenham and Gloucester Car Mart, Ltd., Cheltenham, SL Aldate Garage, Gloucester, and Ryfield Garage, Rosson-Wye, has been acquired by Steel's Securities, Ltd., Bristol, who already control a number of motor businesses in the west.
TESTING DISTRIBUTOR PUMPS
BRITISH-MADE prototypes of the American Bosch distributor pump arc undergoing field tests, says Mn G. E. Liardet, chairman and managing director of Simms Motor Units, Ltd., in his annual report.
"BAN FLASHING LNDICATORS"
THE Association of Municipal Corporations are to ask for the prohibition of flashing indicators on vehicles.
NEW LIVERPOOL STATION
4-1 A COACH station in the centre of Liverpool, with three platforms and 59 departure points, is being planned. There is at present no central terminal in the city, and out-of-town services run from four places in different parts of the city.
£47 FINES ON FARMER
AA LINCOLNSHIRE farmer was at Sheffield on Monday fined a total of £47, with £5 17s. 6d, costs, for carrying for hire or reward under a C licence, and for failing to keep proper records. He was John Henry Rose, Primrose Street, Gainsborough.