Potato Haulage Appeal Fails
8th July 1955
Page 49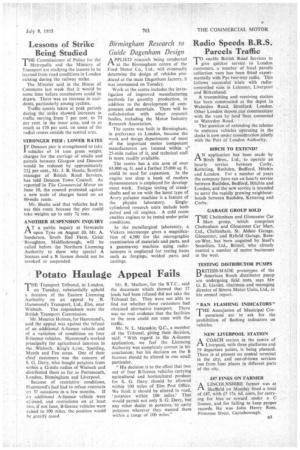 Page 49, 8th July 1955 —
Potato Haulage Appeal Fails
Close
TIIE Transport Tribunal, in London, 1 on Tuesday, substantially upheld a decision of the Eastern Licensing Authority on an appeal by R. Hammond's Transport, Ltd., Elm, near Wisbech. The respondents were the British Transport Commission.
Mr. Maurice Holmes, for Hammonds, said the appeal was against the refusal of an additional A-licence vehicle and of a variation of conditions on four II-licence vehicles. Hammond's worked principally for agricultural interests in the Wisbech, King's Lynn, Spalding, March and Fen areas. One of their chief customers was the concern of S. G. Davy, who bought potatoes from within a 12-mile radius of Wisbech and distributed them as far as Portsmouth, London, Birmingham and Liverpool.
Because of restrictive conditions, Ilammond's had had to refuse contracts ()a 37 occasions in a few months. If al additional A-licence vehicle were al:owed, and restrictions on at least two, if not four, 13-licence vehicles were raised to 100 miles, the position would he greatly cased. Mr. R. Mathew, for the B.T.C.. said the document which showed that 37 loads had been refused did not take the Tribunal far. They were not able to find out whether those customers had obtained alternative transport. There was no real evidence that the facilities in the area could not cope with the traffic.
Mr. N. L. Macaskie, Q.C., a member of the Tribunal, giving their decision, said "With regard to the A-licence application, we feel the Licensing Authority was completely correct in his conclusion; but his decision on the B licences should be altered in one small particular.
"His decision is to the effect that two out of four B-licence vehicles carrying agricultural and horticultural produce for S. G. Davy should be allowed within 100 miles of Elm Post Office. We think it should be altered to read, potatoes within 100 miles.' That would permit not only S. G. Davy, but any other dealer in potatoes, to carry potatoes wherever they wanted them within a range of 100 miles."