Lessons of Strike Being Studied
8th July 1955
Page 49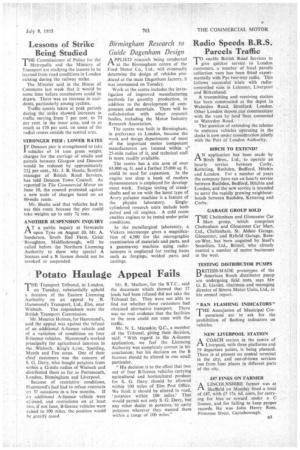 Page 49, 8th July 1955 —
Lessons of Strike Being Studied
Close
THE Commissioner of Police for the Metropolis and the Ministry of Transport are studying the lessons to be learned from road conditions in London existing during the railway strike.
The Minister said in the House of Commons last week that it would be some time before conclusions could be drawn. There was an increase in accidents, particularly among cyclists.
Traffic counts taken at peak periods during the strike showed increases in traffic varying from 7 per cent. to 70 per cent. in the inner area, and to as much as 170 per cent, on some of the radial routes outside the central area.
STRONGER PIER: LOWER RATES Dunoon pier is strengthened to take
vehicles of 14 tons gross weight, charges for the carriage of smalls and parcels between Glasgow and Dunoon would be reduced by approximately 221 per cent., Mr. J. B. Hastie, Scottish manager of British Road Services, has told Dunoon Town Council. As reported in The Commercial Motor on June 10, the council protested against a new scale of charges based on an 80-mile route.
Mr. Hastie said that vehicles had to use this route because the pier could take weights up to only 7* tons.
ANOTHER SUSPENSION INQUIRY
AT a public inquiry at Newcastle upon Tyne on August 10, Mr. A. Sanderson, South End Farm, Great Broughton, Middlesbrough, will be called before the Northern Licensing Authority to show why special A licences and a B licence should not be revoked or suspended.