Birmingham Research to Guide Dagenham Design
8th July 1955
Page 49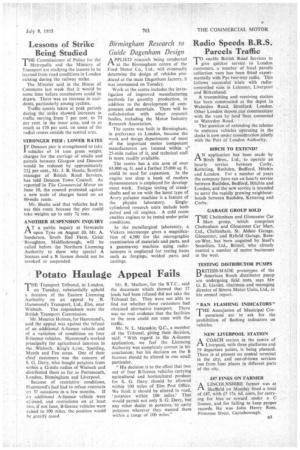 Page 49, 8th July 1955 —
Birmingham Research to Guide Dagenham Design
Close
APPLIED research being conducted at the Birmingham centre of the Ford Motor Co., Ltd., will eventually determine the design of vehicles produced at the main Dagenham factory, it was announced on Tuesday.
Work at the centre includes the investigation of improved manufacturing methods for quantity production, in addition to the development of components and materials. There will be collaboration with other research bodies, including the Motor Industry Research Association.
The centre was built in Birmingham, in preference to London, because the work and design departments of most of the important motor component manufacturers are located within ei 25-mite radius of it, and technical staff is more readily available.
The centre has a site area of over 65,000 sq. ft. and a further 25,000 sq. ft. could be used for expansion. In the engine test shop a bank of modern dynamometers is employed for development work. Fatigue testing of crankshafts and so on with the latest type of Avery pulsator machine is a feature of the physics laboratory. Singlecylindcred research units include both petrol and oil engines. A cold room enables engines to be tested under polar conditions.
In the metallurgical laboratory, a Vickers microscope gives a magnification of 4,500 for the micrographic examination of materials and parts, and a gamma-ray machine using radioisotopes is employed for testing items such as forgings., welded parts and castings.