Men in the News .
8th July 1955
Page 48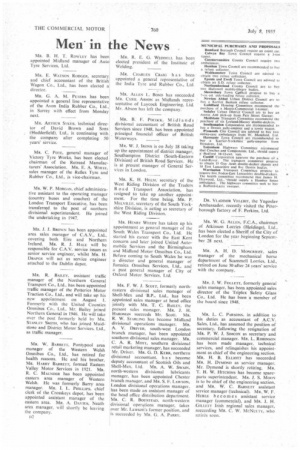 Page 48, 8th July 1955 —
Men in the News .
Close
MR. B. H. T. ROWLEY has been appointed Midland manager of Auto Tyre Services, Ltd.
MR. E. WATSON. RODGER. secretary, and chief accountant of the British Wagon Co., Ltd., has been elected a director.
MR. G. A. M. PETERS has been appointed a general line representative of the Avon India Rubber Co., Ltd., in Surrey with effect from Monday next.
MR. ARLituR Syx.Es, technical direc(or of David Brown and Sons (Iffudderfield). Ltd.. is continuing with the company after completing 50 years' service.
MR. C. POTE, general manager of Victory Tyre Works, has been elected chairman of the Retread Manufacturers * Association. MR. E. A. WHITE, sales manager of the Reflex Tyre and Rubber Co., Ltd., is Nice-chairman.
MR. W. P. MortoNN, chief administrative assistant to the operating manager (country buses and coaches) of the London Transport Executive. has been transferred to the post of northern divisional superintendent, lie joined the undertaking in 1947.
MR. J. I. BROWN has been appointed area sales manager of C.A.V., Ltd.. covering both Eire and Northern Ireland. MR. R. J. HALE still he responsible for C.A.V. service issues as senior service engineer, whilst MR. H. DRAPER will act as service engineer attached to the Dublin depot.
Ma. R. BAILEY. assistant traffic manager of the Northern General Transport Co., Ltd.. has been appointed traffic manager of the Potteries Motor Traction Co.. Ltd.. and will take up his new appointment on August I. Formerly with the United Counties Omnibus Co.. Ltd.. Mr. Bailey joined Northern General in 1946. He will take over the post formerly held by MR. ST.ANLEN Swill. who has joined Maidstone and District Motor Services. Ltd.. as traffic manager.
MR. W. BARRETT, Pontypool area manager of the Western Welsh Omnibus Co., Ltd., has retired for health reasons. He and his brother, MR. HARRY BARRETT, formed Eastern Valley Motor Services in 1921. MR. R. C. MAUNDER has been appointed eastern area manager of Western Welsh. He was formerly Barry area manager. MR. 1. L. PHILLIPS. chief clerk of the Crosskeys depot, has been appointed assistant manager of the eastern area. MR. A. DAVIES, Neath area manager, will shortly be leaving the company. MR. R. E. G. WE.DDELL has been elected president of the Institute of Welding.
MR. CHARLES CRAIG h as been appointed a general representative of the India Tyre and Rubber Co., Ltd.
MR. ALLEN L. BOND has succeeded MR. CYRIL ARSON as Midlands representative of Laycock Engineering, Ltd. Mr. Abson has left the company.
MR. B. F. Pocock. Midlands divisional accountant of British Road Services since 1948. has been appointed principal financial officer of British Waterways.
MR. W. J. IRONS is on July 18 taking up the appointment of district manager, Southampton District (South-Eastern Division) of British Road Services. He is at present manager of General Services in London.
MR. K. H. HELM: secretary of the West Riding Division of the Traders Road Transport Association, has resigned to take up another appointment. For the time being. MR. P. MELVILLE. secretary of the South Yorkshire Division, is acting as secretary of the West Riding Division.
MR. HENRY WEEDY has taken up his appointment as general manager of the South Wales Transport Co.. 1-td. He started his career with the East Kent concern and later joined United Automobile Services and the Birmingham and Midland Motor Omnibus Co., Ltd. Before coming to South Wales he was a director and general manager of Jamaica Omnibus Services. Ltd.. and a past general manager of City of Oxford Motor Services. Ltd.
MR. F. W. I. SCOTT. formerly northeastern divisional sales manager Of Shell-Mex and B.F., Ltd.. has been I appointed sales manager at head office jointly with MR. T. C. BAILEY. the present sales manager. M. J. H. HARDMAN succeeds Mr. Scott. MR. R. W. STARLING has become Midland divisional operations manager. MR. A. V. DRIVER, south-west London branch manager. has been appointed southern divisional sales manager. MR. C. A. R. Mori, southern divisional retail marketing manager, has succeeded Mr. Driver. MR. 0. D. KERR, northern divisional accountant. h a s become deputy accountant of Scottish Oils and Shell-Mex. Ltd. MR. A. W. SWAIN. north-western divisional lubricants manager, has been appointed Chester branch manager, and MR. S. F. LawsoN. I.ondon divisional operations manager. has been made an assistant manager of the head office distribution department. MR. C. R. BOUSTEAD. north-western ,divisional operations manager. takes over Mr. Lawson's former position. and is succeeded by MR, G. A. PARRY. DR. VLADIMIR VELEIIIIT. the Yugoslav Ambassador. recently visited the Peterborough factory of F. Perkins, Ltd.
MR. W. G. ALLEN, F.C.A., chairman of Atkinson Lorries (Holdings), Ltd., has been elected a Sheriff of the City of London for the year beginning September 28 next.
MR. A. H. D. MONCRIEFF. sales manager of the mechanical horse department of Scammell Lorries. Ltd.. retired on June 30 after 24 years' service with the company.
MR. J. W. FOLLETT, formerly general sales manager. has been appointed sales director of the Triplex Safety Glass Co.. Ltd. He has been a member of the board since 1948.
MR. L. C. PARSONS. in addition to his duties as accountant of A.C.V. Sales, Ltd., has assumed the position of secretary. following the resignation of MR. P. W. J. &wok as secretary and commercial manager. MR. L. ROBINSON has been made manager. technical services, and relinquishes his appointment as chief of the engineering section. Ma. H. B. ELtion has succeeded MR. H. DYMOND as service manager. Mr. Dymond is shortly retiring. MR. T. H. W. Hu-aims has become spareparts superintendent. MR. J. S. Moos is to be chief of the engineering section. and MR. W. C. BaaNcrr assistant service manager (technical). MR.. W. F. HURLE becomes assistant service manager (commercial), and MR. J. H. GtLLErr Irish regional sales manager, succeeding MR. C. W. WWI' y. who retires soon.
Tags
People
:
VLADIMIR VELEIIIIT
,
A. M. PETERS
,
Chester
,
HENRY WEEDY
,
R. Mori
,
E. A. WHITE
,
J. S. Moos
,
CHARLES CRAIG
,
R. C. MAUNDER
,
C. POTE
,
J. W. FOLLETT
,
H. DYMOND
,
D. KERR
,
R. W. STARLING
,
T. C. BAILEY
,
W. G. ALLEN
,
Midland
,
W. J. IRONS
,
S. F. LawsoN
,
Abson
,
C. R. BOUSTEAD
,
W. BARRETT
,
L. C. PARSONS
,
R. J. HALE
,
A. V. DRIVER
,
R. BAILEY
,
A. DAVIES
,
CYRIL ARSON
,
A. W. SWAIN
,
K. H. HELM
,
L. ROBINSON
,
J. I. BROWN
,
B. F. Pocock
,
H. DRAPER
,
I. SCOTT
,
P. MELVILLE
,
ALLEN L. BOND
,
HARRY BARRETT
,
E. WATSON