Yorkshire Hauliers Arraigned Minister Silent on
8th July 1955
Page 42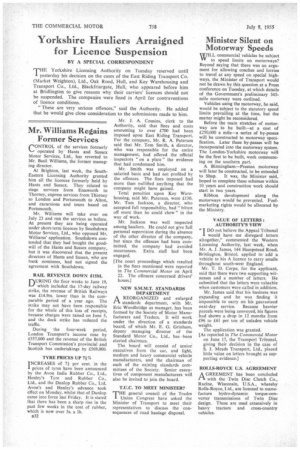 Page 42, 8th July 1955 —
Yorkshire Hauliers Arraigned Minister Silent on
Close
for Licence Suspension
BY A SPECIAL CORRESPONDENT
THE Yorkshire Licensing Authority on Tuesday reserved until yesterday his decision on the cases of the East Riding Transport Co. (Market Weighton), Ltd., Oak Road, Hull, and Key Warehousing and Transport Co., Ltd., Blackfriargate, Hull, who appeared before him at Bridlington to give reasons why their carriers' licences should not be suspended. The companies were fined in April for contraventions of licence conditions.
"These are very serious offences," said the Authority. He added that he would give close consideration to the submissions made to him.
Mr. J. A. Cousins, clerk to the Authority, said that fines and costs amounting to over £700 had been imposed upon East Riding Transport. For the company, Mr. R. A. Paterson said that Mr. Tom Smith, a director, who was responsible for the entire management, had offered the official inspectors "on a plate" the evidence that had condemned him.
Mr. Smith was employed on a salaried basis and had not profited by the offences. The fines imposed had more than nullified anything that the company might have gained.
Total penalties upon Key Warehousing, said Mr. Paterson, were £130. Mr. Tom Jackson, a director, who accepted full responsibility, had "bitten off more than he could chew" in the way of work.
Mr. Jackson was well respected among hauliers. He could not give full personal supervision during the absence of the other director of the company, but since the offences had been committed, the company had avoided recurrences. Extra staff had been engaged.
[The court proceedings which resulted in the fines mentioned were reported in The Commercial Motor on April 22. The offences concerned drivers' ii °um.]
NEW S.M.M.T. STANDARDS DEPARTMENT
I-% A REORGANIZED and enlarged
standards department, with Mr. Eric Woodbridge as manager, has been formed by the Society of Motor Manufacturers and Traders. It will work under the direction of a standards board, of which Mr. E. G. Grinham, deputy managing director of the Standard Motor Co., Ltd., has been elected chairman.
The board will consist of senior executives from the car, and light, medium and heavy commercial vehicle manufacturers, and the chairman of each of the existing standards committees of the Society. Senior executives of component manufacturers will also be invited to join the board.
T.U.C. TO MEET MINISTER? THE general council of the Trades
Union Congress have asked the Minister of Transport to meet their representatives to discuss the consequences of road haulage disposal.