Mr. Williams Regains Former Services
8th July 1955
Page 42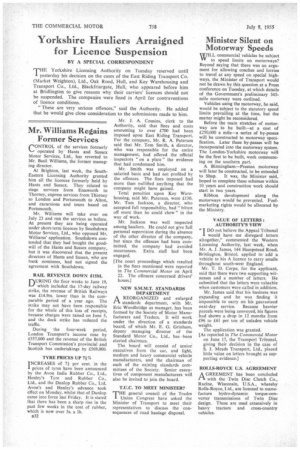 Page 42, 8th July 1955 —
Mr. Williams Regains Former Services
Close
rONTROL of the services formerly %-sj operated by Hants and Sussex Motor Services, Ltd., has reverted to Mr. Basil Williams, the former managing director.
At Brighton, last week, the SouthEastern Licensing Authority granted him all the licences formerly held by Hants and Sussex. They related to stage services from Emsworth to Thorney, express services from Tiforney to London and Portsmouth to Alton, and excursions and tours based on Portsmouth.
Mr. Williams will take over on July 23 and run the services as before. At present they are being operated under short-term licences by Southdown Motor Services, Ltd., who opposed Mr. Williams' application. Southdown contended that they had bought the goodwill of the Hants and Sussex company, but it was discovered that the present directors of Hants and Sussex, who are bank nominees, had not signed the agreement with Southdown.
RAIL REVENUE DOWN £15M. nURING the four weeks to June 19, which included the 17-day railway strike, the revenue of British Railways was £14.9m. lower than in the comparable period of a year ago. The strike may not have been responsible for the whole of this loss of receipts, because charges were raised on June 5, and the dock strike has reduced the traffic.
During the four-week period, London Transport's income rose by £557,000 and the revenue of the British Transport Commission's provincial and Scottish bus undertakings by £569,000, TYRE PRICES UP 71%
I NCREASES of 71 per cent. in the prices of tyres have been announced by the Avon India Robber Co., Ltd., Henley's Tyre and Rubber Co., Ltd., and the Dunlop Rubber Co., Ltd. Avon's and Henley's advance took effect on Monday, whilst that of Dunlop came into force last Friday. It is stated that there has been a sharp rise in the past few weeks in the cost of rubber, which is now over 3s. a lb.
a32