One Hears
8th July 1955
Page 41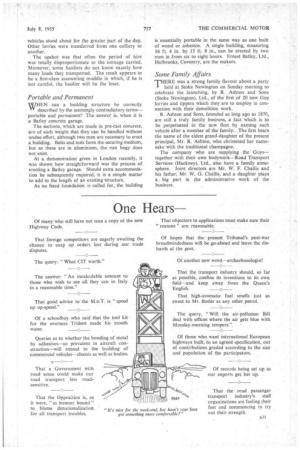 Page 41, 8th July 1955 —
One Hears
Close
Keywords :
Of many who still have not seen a copy of the new Highway Code.
That foreign competitors are eagerly awaiting the chance to snap up orders lost during our trade disputes.
The query: "What C1T worth."
The answer: "An incalculable amount to those who wish to see all they can in Italy in a reasonable time."
That good advice to the M.o.T. is "speed up up-speed."
Of a schoolboy who said that the tool kit for the overseas Trident made his mouth water.
Queries as to whether the bonding of metal by adhesives—so prevalent in aircraft construction—will extend to the building of commercial vehicles—chassis as well as bodies.
That a Government with road sense could make our road transport less roadsensitive.
That the Opposition is, as it were, "in honour bound" to blame denationalization for all transport troubles. That objectors to applications must make sure their " reasons" are reasonable.
Of hopes that the present Tribunal's post-war broadmindedness will be go-ahead and leave the diehards at the post.
Of another new word—archaebusologist!
That the transport industry should, so far as possible, confine its inventions to its own field—and keep away from the Queen's English. 0 That high-aromatic fuel smells just as sweet to Mr. Butler as any other petrol.
The query, "Wilt the air-pollution Bill deal with offices where the air gets blue with
Monday-morning tempers."
Of those who want international European highways built, to an agreed specification, out of contributions graded according to the size and population of the participators.
Of records being set up as our exports get het up.
That the road passenger transport industry's staff organizations are feeling their feet and commencing to try out their strength.