Conflict on Monopolies
8th July 1955
Page 40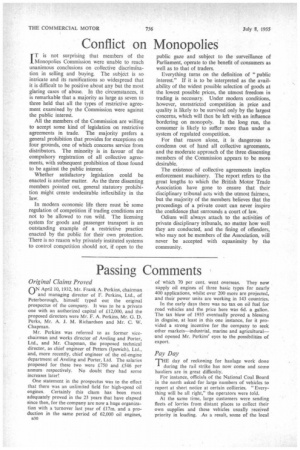 Page 40, 8th July 1955 —
Conflict on Monopolies
Close
irT is not surprising that members of the Monopolies Commission were unable to reach unanimous conclusions on collective discrimination in selling and buying. The subject is so intricate and its ramifications so widespread that it is difficult to be positive about any but the most glaring cases of abuse. In the circumstances, it is remarkable that a majority as large as seven to three held that all the types of restrictive agreement examined by the Commission were against the public interest.
All the members of the Commission are willing to accept some kind of legislation on restrictive agreements in trade. The majority prefers a general prohibition that provides for exceptions on four grounds, one of which concerns service from distributors. The minority is in favour of the compulsory registration of all collective agreements, with subsequent prohibition of those found to be against the public interest.
Whether satisfactory legislation could be enacted is another matter. As the three dissenting members pointed out, general statutory prohibition might create undesirable inflexibility in the law.
In modern economic life there must be some regulation of competition if trading conditions are not to be allowed to run wild. The licensing system for goods and passenger transport is an outstanding example of a restrictive practice enacted by the public for their own protection. There is no reason why privately instituted systems to control competition should not, if open to the public gaze and subject to the surveillance of Parliament, operate to the benefit of consumers as well as to that of traders.
Everything turns on the definition of "public interest." If it is to be interpreted as the availability of the widest possible selection of goods at the lowest possible prices, the utmost freedom in trading is necessary. Under modern conditions, however, unrestricted competition in price and quality is likely to be survived only by the largest concerns, which will then be left with an influence bordering on monopoly. In the long run, the consumer is likely to suffer more than under a system of regulated competition.
For that reason alone, it is dangerous to condemn out of hand all collective agreements, and the moderate approach of the three dissenting members of the Commission appears to be more desirable.
The existence of collective agreements implies enforcement machinery. The report refers to the great lengths to which the British Motor Trade Association have gone to ensure that their disciplinary tribunal acts with the utmost fairness, but the majority of the members believes that the proceedings of a private court can never inspire the confidence that surrounds a court of law.
Odium will always attach to the activities of private disciplinary tribunals, no matter how well they are conducted, and the fining of offenders, who may not be members of the Association, will never be accepted with equanimity by the community.