ONE HEARS
8th July 1919
Page 3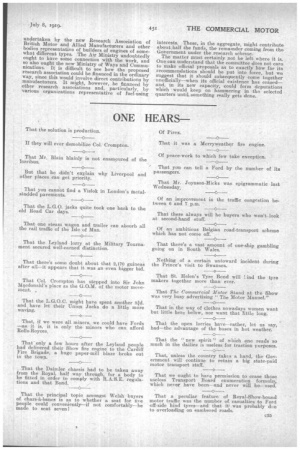 Page 3, 8th July 1919 —
ONE HEARS
Close
That the solution is production.
If they will ever demobilize Col. Crompton.
That Mr. Blain blainly is not enamoured of the lorribus.
But that he didn't explain why Liverpool and other places can get priority.
That you cannot find a Vislok in London's Metalstudded pavements.
That the L.G.O. jacks quite took one back to the old Road Car days.
• That one steam wagon and trailer can absorb all the rail traffic of the Isle of Man.
That the Leyland lorry at the Military Tournament secured well-earned distinction.
That there's some doubt about that 2,170 guineas after all—it appears that it was an even bigger bid.
That Col. Crompton has stepped into Sir John Macdonald's place as the G.O.M. of the motor movement.
That the L.G.O.C. might have spent another &id. and have let their Union Jacks do a little more waving.
That, if we were all miners, we could have Fords —as it is, it is only the minors who can afford Roll s-Royces, That only a few hours after the Leyland people had delivered their Show fire engine to the Cardiff Fire Brigade, a huge paper-mill blaze broke out in the town.
That the Daimler chassis had to be taken away from the Royal, half way through, for a body to be fitted in order to comply with R.A.S.E. regulations and that Bond.
That the principal topic amongst Welsh buyers of chars-a-bancs is as to whether a seat for iive people could conveniently—if not comfortably—be made to seat seven! Of Pirex.
That it was a Merryweather fire engine.
Of peace-work to which few take exception.
That ydu can tell a Ford by the number of its passengers.
That Mr. Joynson-Hicks was epigrammatic last Wednesday.
Of an improvement in the traffic congestion between 6 and 7 p.m.
That there always will be buyers who won't-look ' at second-hand stuff.
Of an ambitious Belgian road-transport scheme which has not come off.
That there's a vast amount of one-ship gambling going on in South Wales.
Nothing of a certain untoward incident during the Prince's visit to Swansea, That St. Helen's Tyre Bond will !And the tyre makers together more than ever.
That The Commercial Motor Stand at the show was very busy advertising " The Motor Manuel."
That in the way of clothes nowadays women want but little here below, nor want that little long.
That the open lorries have—rather, let us say, had—the advantage of the buses in hot weather.
That the "new spirit" of which one reads so much in the dailies is useless for traction purposes.
That, unless the country takes a hand, the Government will continue to retain a big state-paid motor transport staff.
That we ought to have permission to erase those useless Transport Board enumeration formulte, "which never have been—and never will he—used.
That a peculiar feature of Royal-Show-bound motor traffic was the number of. casualties to Ford off-side hind tyres—and that it/ .was probably due to overloading on cambered roads.. •