News and Comment.
8th July 1909
Page 12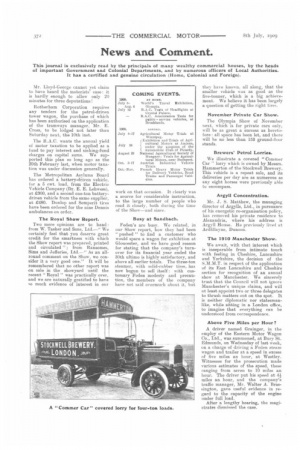 Page 13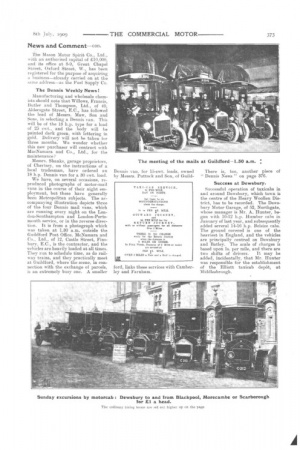 Page 14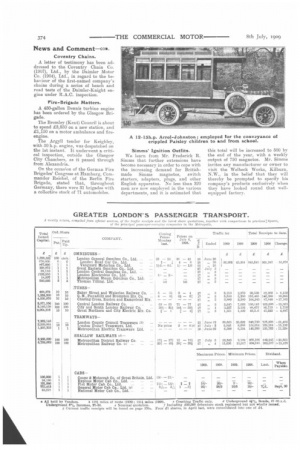 Page 12, 8th July 1909 —
News and Comment.
Close
This journal is exclusively read by the principals of many wealthy commercial houses, by the heads of important Government and Colonial Departments, and by numerous officers of Local Authorities. it has a certified and genuine circulation (Home, Colonial and Foreign).
-Mr. Lloyd-George cannot yet claim to have heard the motorists' case it is hardly enough to allow only 20 minutes for three deputations!
Rotherham Corporation requires any tenders for the petrol-driven tower wagon, the purchase of which has been authorised on the application of the tramways manager, Mr. E. Cross, to be lodged not later than Saturday next, the 10th inst.
The R.A.C. wants the annual yield of motor taxation to be applied as a fund to pay interest and sinking-fund charges on capital sums. We supported this plan so long ago as the 20th February last, when motor taxation was under discussion generally.
The Metropolitan Asylums Board has ordered a battery-driven vehicle, for a 5 cwt. load, from the Electric Vehicle Company (Dr. E. E. Lehwess), at £300, and a second one-ton batterydriven vehicle from the same supplier, at £480. Dunlop and Semperit tires have been ordered for the nine Dennis ambulances on order.
The Royal Show Report.
Two more opinions are to hand: from W. Tasker and Sons. Ltd.—" We certainly feel that you deserve great credit for the smartness with which the Show report was prepared, printed and circulated " ; from Ransomes, Sims and Jefferies, Ltd.--" As an allround comment on the Show, we consider it a very good one." It will be remembered that no other report was on sale in the showyard until the recent "Royal " was practically over, and we are naturally gratified to have so much evidence of interest in our
work on that occasion. It clearly was a source for considerable instruction, to the large number of people who read it closely, both during the time of the Show—and since.
Busy at Sandbach.
Foden's are busy. We related, in our Show report, how they had been " pushed " to find a customer who would spare a wagon for exhibition at Gloucester, and we have good reason for stating that the company's turnover for its financial year ended the 30th ultimo is highly satisfactory, and above all earlier totals. The three-ton steamer, with solid-rubber tires, has now begun to sell itself : with customary Foden modesty and precaution, the members of the company have not said overmuch about it, but
they have known, all along, that the smaller vehicle was as good as the five-tonner, which is a big achievement. We believe it has been largely a question of getting the right tires.
November Private Car Show.
The Olympia Show of November next, which is for private cars only, will be as great a success as heretofore all space has been let, and there will be no less than 158 ground-floor stands.
Brewers' Petrol Lorries.
We illustrate a covered " Corn/tier Car " lorry which is owned by Messrs. Hammerton of the Stockwell Brewery. This vehicle is a repeat sale, and its deliveries per day are as numerous as any eight horses were previously able to encompass.
Argyll Concentration.
Mr. J. S. Matthew, the managing director of Argylls, Ltd., in pursuance of his energetic re-organisation policy, has removed his private residence to Alexandria, where his address is Are'. House. He previously lived at Ardfillayne, Dunoon.
The 1910 Manchester Show.
We await, with that interest which is inseparable from intimate touch with feeling in Cheshire, Lancashire and Yorkshire, the decision of the S.M.M.T. in respect of the application of its East Lancashire and Cheshire section for recognition of an annual show at Manchester. We sincerely trust that the Council will not ignore Manchester's unique claims, and will at least appoint two or three delegates to thrash matters out on the spot. It is neither diplomatic nor statesmanlike, while sitting in a London office, to imagine that everything can be understood from correspondence.
Above Five Miles per Hour ?
A driver named Grainger, in the employ of the Eastern Motor Wagon Co., Ltd., was summoned, at Bury St. Edmunds, on Wednesday of last week, on a charge of driving a leaden steam wagon and trailer at a speed in excess of five miles an hour, at Westley. Witnesses for the prosecution made various estimates of the speed, these ranging from seven to 10 miles an hour. The driver put his speed at 4i miles an hour, and the company's traffic manager, Mr. Walter A. Brassington, gave useful evidence in regard to the capacity of the engine under full load.
After a lengthy hearing, the magistrates dismissed the case.
The Mason Motor Spirit Co., Ltd., with an authorised capital of £10,000, and its office at 8-9, Great Chapel Street, Oxford Street, W., has been registered for the purpose of acquiring a business—already carried on at the same address—as the Fuel Supply Co.
The Dennis Weekly News!
Manufacturing and wholesale chemists should note that 'Willows, Francis, Butler and Thompson, Ltd., of 40, Aldersgate Street, E.C., has followed the lead of Messrs. Maw, Son and sons, in selecting a Dennis van. This will be of the 18 h.p. type for a load of 25 cwt., and the body will be painted dark green, with lettering in gold. Delivery will not be taken for three months. We wonder whether this new purchaser will contract with MacNamara and Co., Ltd., for the maintenance ?
Messrs. Shanks, garage proprietors, of Chertsey, on the instructions of a local tradesman, have ordered an 18 h.p. Dennis van for a 30 cwt. load.
We have, on several occasions, reproduced photographs of motor-mail vans in the course of their night employment, but these have generally been Metropolitan subjects. The accompanying illustration depicts three of the four Dennis mail vans, which are running every night on the London-Southampton and London-Portsmouth service, or in the reverse direction. It is from a photograph which was taken at 1.30 a.m. outside the Guildford Post Office. McNamara and Co., Ltd., of 12, Castle Street, Finsbury, E.C., is the contractor, and the vehicles are heavily loaded at all times. They run to schedule time, as do railway trains, and they practically meet at Guildford, where the scene, in connection with the exchange of parcels, is an extremely busy one. A smaller
Dennis van, for 15-cwt. loads, owned by Messrs. Puttock and Son, of Guild ford, links these services with Camberley and Farnham. There is, too, another piece of "Dennis News" on page 376.
Success at Dewsbury.
Successful operation of taxicabs in and around Dewsbury, which town is the centre of the Heavy Woollen District, has to be recorded. The Dewsbury Motor Garage, of 52, Northgate, whose manager is Mr. A. Hunter, began with 10-12 h.p. Humber cabs in January of last year, and subsequently added several 14-16 h.p. Belsize cabs. The ground covered is one of the heaviest in England, and the vehicles are principally centred on Dewsbury and Batley. The scale of charges is based upon Is. per mile, and there are
two shifts of drivers. It may be added, incidentally, that Mr. Hunter was responsible for the establishment of the Elliott taxicab depot, at illiddlaNbrongh.
Coventry Chains.
A letter of testimony has been addressed to the Coventry Chain Co. (1907), Ltd., by the Daimler Motor Co. (1904), Ltd., in regard to the behaviour of the first-named company's chains during a series of bench and road tests of the Daimler-Knight engine under R.A.C. inspection.
Pire-Brigade Matters.
A 450-gallon Dennis turbine engine has been ordered by the Glasgow Brigade.
The Bromley (Kent) Council is about to spend a,850 on a new station, and £1,150 on a motor ambulance and fireengine.
The Argyll tender for Keighley, with 50 h.p. engine, was despatched on the 1st instant. It underwent a critical inspection, outside the Glasgow City Chambers, as it passed through from Alexandria.
On the occas;on of the German Fire Brigades' Congress at Hamburg, Commander Reichel, of the Berlin Fire Brigade, stated that, throughout Germany, there were 31 brigades with a collective stock of 71 automobiles. Simms' Ignition Outfits.
We learn from Mr. Frederick R. Simms that further extensions have become necessary in order to cope with the increasing demand for Britishmade Simms magnetos, switch starters, adapters, plugs, and other English apparatus. No less than 320 men are now employed in the various departments, and it is estimated that this total will be increased to 500 by the end of the year, with a weekly output of 750 magnetos. Mr. Simms invites any manufacturer or owner to visit the Welbeck Works, Kilburn, N.W., in the belief that they will thereby be prompted to specify his company's products exclusively when they have looked round that wellequipped factory.