The Motorcab Wanted at London Stations.
8th July 1909
Page 11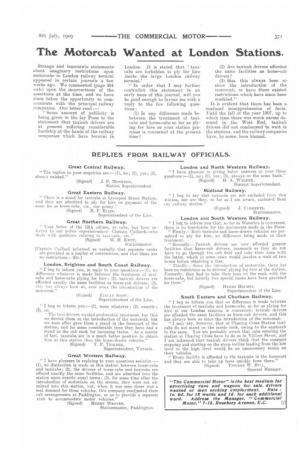 Page 11, 8th July 1909 —
The Motorcab Wanted at London Stations.
Close
Strange and inaccurate statements about imaginary restrictions upon motorcabs in London railway termini appeared in certain journals a few weeks ago. We commented (page 304 ante) upon the incorrectness of the assertions at the time, and we have since taken the opportunity to communicate with the principal railway companies. Our letter read:— " Some amount of publicity is being given in the lay Press to the statement that taxicab drivers are at. present suffering considerable hardship at the hands of the railway companies which have termini in London. It is stated that 'taxicabs are forbidden to ply for hire inside the large London railway termini.'
" In order that I may further contradict this statement in an early issue of this journal, will you he good enough to favour me with a reply to the few following questions:
(I) Is any difference made bebetween the treatment of taxicabs and horse-cabs so far as plying for hire on your station premises is concerned at the present time?
(2) Are taxicab drivers afforded the same facilities as horse-cab drivers F (3) Has this always been so since the introduction of the motorcab, or have there existed restrictions which have since been modified."
It is evident that there has been a confused misapprehension of facts. Until the fall of the year 1907, up to which time there was much excess demand in the West End, taxicab drivers did not condescend to wait in the stations, and the railway companies have, by some, been blamed.