Scots merge(
8th January 1983
Page 8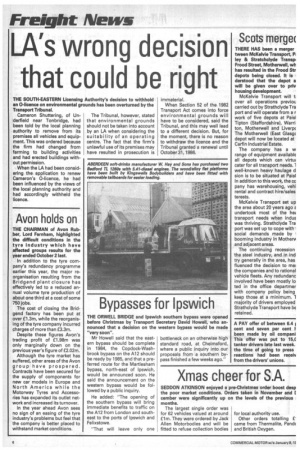 Page 8, 8th January 1983 —
Scots merge(
Close
THERE HAS been a merger tween McKelvie Transport, PI ley & Stratchclyde Transpl Frood Street, Motherwell, wh has resulted in the Frood Str depots being closed. It is I derstood that the depot a will be given over to priv housing development.
McKelvie Transport will t. over all operations previou carried out by Strathclyde Tra port and will operate from a r work of five depots at Pais! Tipton (Staffordshire), Warn ton, Motherwell and Liverpc The Motherwell (East Glasgc depot will now be located at Carlin Industrial Estate.
The company has a w range of equipment available all depots which can virtul cater for all transport needs. 1 well-known heavy haulage d sion is to be situated at Pais! In addition to this work, the co pany has warehousing, vehi rental and contract hire/sales terests.
McKelvie Transport set up the area about 20 years ago 2 undertook most of the he transport needs when indus was thriving. Strathclyde Tra port was set up to cope with I social demands made by 1 booming industry in Mothero and adjacent areas.
The continuing recession the steel industry, and in ind try generally in the area, has fluenced the decision to mei the companies and to rational vehicle fleets. Any redundanc involved have been mostly lo ted in the office departmer with company policy being keep those at a minimum. 1 majority of drivers employed Strathclyde Transport have be retained.