Avon holds on
8th January 1983
Page 8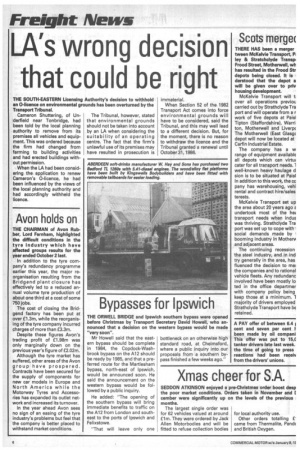 Page 8, 8th January 1983 —
Avon holds on
Close
THE CHAIRMAN of Avon Rubber, Lord Farnham, highlighted the difficult conditions in the tyre industry which have affected groups results for the year ended October 2 last.
In addition to the tyre company's redundancy programme earlier this year, the major reorganisation resulting from the Bridgend plant closure has effectively led to a reduced annual volume tyre production of about one third at a cost of some 750 jobs, The cost of closing the Bridgend factory has been put at over £1.3m, while the reorganising of the tyre company incurred charges of more than £3.3m.
Despite these figures Avon's trading profit of £1.98m was only marginally down on the previous year's figure of £2.02m.
Although the tyre market has suffered, other areas of the Avon group have prospered. Contracts have been secured for the supply of components for new car models in Europe and North America while the Motorway Tyres and Accessories has expanded its outlet network and increased its turnover.
In the year ahead Avon sees no sign of an easing of the tyre industry's problems but feel that the company is better placed to withstand market conditions.