Honours all round for transport VIPs
8th January 1983
Page 6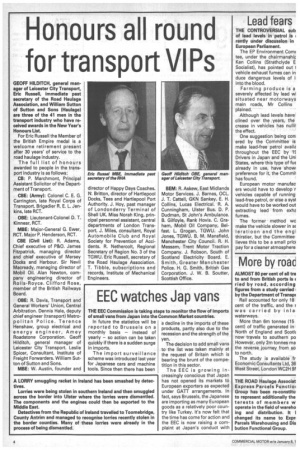 Page 6, 8th January 1983 —
Honours all round for transport VIPs
Close
GEOFF HILDITCH, general manager of Leicester City Transport, Eric Russell, immediate past secretary of the Road Haulage Association, and William Sutton of Sutton and Sons (Haulage) are three of the 41 men in the transport industry who have received awards in the New Year's Honours List.
For Eric Russell the Member of the British Empire medal is a welcome retirement present after 30 years' of service to the road haulage industry.
The full list of honours awarded to people in the transport industry is as follows: CB: P. Marchmont, Principal Assistant Solicitor of the Department of Transport.
CBE: (Army): Colonel C. E. G. Carrington, late Royal Corps of Transport. Brigadier R. E. L. Jenkins, late RCT.
OBE: Lieutenant-Colonel D. T. Kinnear, RCT.
MBE: Major-General G. Ewer, RCT. Major P. Henderson, RCT.
CBE (Civil List): R. Adams, Chief executive of P&O. James Fitzpatrick, managing director and chief executive of Mersey Docks and Harbour. Sir Nevil rvlacready, managing director of Mobil Oil. Alan Newton, company engineering director of Rolls-Royce. Clifford Rose, member of the British Railways Board.
OBE: R. Davis, Transport and General Workers' Union, Central Arbitration. Dennis Hale, deputy chief engineer (transport) Metropolitan Police. Terence Henshaw, group electrical and energy engineer, Amey Roadstone Corporation. Geoff Hilditch, general manager of Leicester City Transport. Leslie Spicer, Consultant, Institute of Freight Forwarders. William Sutton of Sutton and Sons.
MBE: W. Austin, founder and director of Happy Days Coaches. R. Britton, director of Hartlepool Docks, Tees and Hartlepool Port Authority. J. Hoy, past manager of Londonderry Terminal of Shell UK. Miss Norah King, principal personnel assistant, central departments of London Transport. J. Miles, consultant, Royal Automobile Club and Royal Society for Prevention of Accidents. R. Nethercolt, Regional Secretary of Region No. 3 of the TGWU. Eric Russell, secretary of the Road Haulage Association. T. Tibble, subscriptions and records, Institute of Mechanical Engineers. BEM: R. Askew, East Midlands Motor Services. J. Barnes, OCL. J. T. Cattell, GKN Sankey. E. H. Collins, Lucas Electrical. R. A. Cunningham, Ulster Bus. D. P. Dudman, St John's Ambulance. B. Gilfoyle, Rank Hovis. C. Graham, Mobil Oil Company, Belfast. L. Grogan, TGWU. John Jones, TGWU. B. M. Mansfield, Manchester City Council. R. H. Messam, Trent Motor Traction Company. J. Robson, South of Scotland Electricity Board. E. Smith, Greater Manchester Police. H. G. Smith, British Gas Corporation. J. W. B. Soutter, Scottish Office.
Tags
Organisations
:
Royal Society for Prevention of Accidents
,
Manchester City Council
,
Royal Corps of Transport
,
Greater Manchester Police
,
R. Davis, Transport and General Workers' Union
,
Institute of Freight Forwarders
,
Road Haulage Association
,
Institute of Mechanical Engineers
,
Royal Automobile Club
,
Scotland Electricity Board
,
Metropolitan Police
,
Hartlepool Docks, Tees and Hartlepool Port Authority
,
Scottish Office
,
Department of Transport
,
British Railways Board
People
:
J. Miles
,
Leslie Spicer
,
Clifford Rose
,
GEOFF HILDITCH
,
Eric Russell
,
W. Austin
,
J. Hoy
,
Dennis Hale
,
Norah King
,
James Fitzpatrick
,
P. Henderson
,
Alan Newton
,
William Sutton
,
R. Adams
,
R. Britton
,
D. T. Kinnear
,
John Jones