8 per cent
8th January 1983
Page 5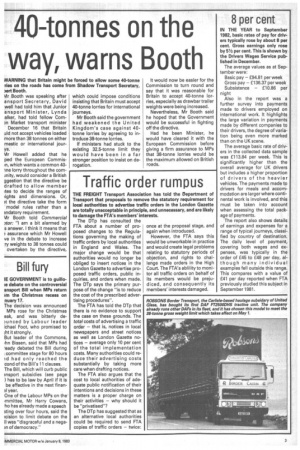 Page 5, 8th January 1983 —
8 per cent
Close
IN THE YEAR to September 1982, basic rates of pay for drivers typically rose by about 8 per cent. Gross earnings only rose by 51/2 per cent. This is shown by the Drivers Wages Service published in December.
The average values as at September were: Basic pay — £94.81 per week Gross pay — £136.37 per week Subsistence — £10.86 per night Also in the report was a further survey into payments made to drivers employed on international work. It highlights the large variation in payments made by different companies to their drivers, the degree of variation being even more marked than on the UK scene.
The average basic rate of drivers in the collected data sample was E113.84 per week. This is significantly higher than the overall average for UK drivers but includes a higher proportion of drivers of the heavier vehicles. The payments made to drivers for meals and accommodation are larger where continental work is involved, and this must be taken into account when assessing the total package of payments.
The report also shows details of earnings and expenses for a range of typical journeys, classified by country of destination. The daily level of payment, covering both wages and expenses, was typically in the order of £45 to £48 per day, although many individual examples fell outside this range. This compares with a value of £41 per day reported when FTA previously studied this subject in September 1981.