Home is best
8th January 1983
Page 4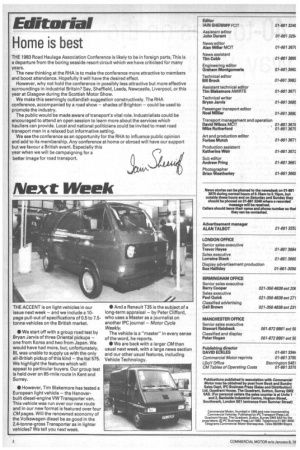 Page 4, 8th January 1983 —
Home is best
Close
THE 1983 Road Haulage Association Conference is likely to be in foreign parts. This is a departure from the boring seaside resort circuit which we have criticised for many years.
The new thinking at the RHA is to make the conference more attractive to members and boost attendance. Hopefully it will have the desired effect.
However, why not hold the conference in possibly less attractive but more effective surroundings in industrial Britain? Say, Sheffield, Leeds, Newcastle, Liverpool, or this year at Glasgow during the Scottish Motor Show.
We make this seemingly outlandish suggestion constructively. The RHA conference, accompanied by a road show — shades of Brighton — could be used to promote the industry.
The public would be made aware of transport's vital role. Industrialists could be encouraged to attend an open session to learn more about the services which hauliers can provide. Local and national politicians could be invited to meet road transport men in a relaxed but informative setting.
We see the conference as an opportunity for the RHA to influence public opinion and add to its membership. Any conference at home or abroad will have our support but we favour a British event. Especially this year when we will be campaigning for a better image for road transport.