f --J r oidx
8th January 1983
Page 28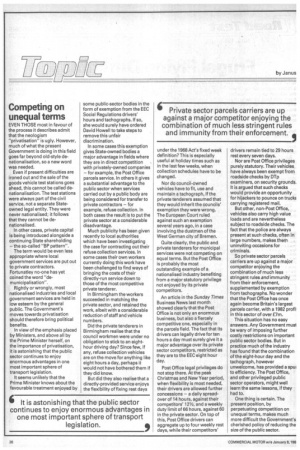 Page 28, 8th January 1983 —
f --J r oidx
Close
by Janus
Competing on unequal terms
EVEN THOSE most in favour of the process it describes admit that the neologism "privatisation" is ugly. However, much of what the present Government is doing in this field goes far beyond old-style denationalisation, so a new word was needed.
Even if present difficulties are ironed out and the sale of the goods vehicle test stations goes ahead, this cannot be called denationalisation. The test stations were always part of the civil service, not a separate Stateowned legal entity. They were never nationalised; it follows that they cannot be denationalised.
In other cases, private capital is being introduced alongside a continuing State shareholding — the so-called "BP pattern".
The term would be even less appropriate where local government services are put out to private contractors. Fortunatley no-one has yet coined the word "demunicipalisation".
Rightly or wrongly, most nationalised industries and local government services are held in low esteem by the general public. The Government's moves towards privatisation should therefore bring political benefits.
In view of the emphasis placed by Ministers, and above all by the Prime Minister herself, on the importance of privatisation, it is astonishing that the public sector continues to enjoy enormous advantages in one most important sphere of transport legislation.
It seems unlikely that the Prime Minister knows about the favourable treatment enjoyed by some public-sector bodies in the form of exemption from the EEC Social Regulations drivers' hours and tachographs. If so, she would surely have ordered David Howell to take steps to remove this unfair discrimination.
In some cases this exemption gives State-owned bodies a major advantage in fields where they are in direct competition with privately-owned companies — for example, the Post Office parcels service. In others it gives a substantial advantage to the public sector when services carried out by a public body are being considered for transfer to private contractors — for example, refuse collection. In both cases the result is to put the private sector at a considerable disadvantage.
Much publicity has been given recently to local authorities which have been investigating the case for contracting out their refuse collection services. In some cases their own workers currently doing this work have been challenged to find ways of bringing the costs of their directly-run service down to those of the most competitive private tenderer.
In Birmingham the workers succeeded in matching the private sector, and retained the work, albeit with a considerable reduction of staff and vehicle numbers.
Did the private tenderers in Birmingham realise that the council workmen were under no obligation to stick to an eighthour driving day? Since few, if any, refuse collection vehicles are on the move for anything like eight hours a day, perhaps it would not have bothered them if they did know.
But did they also realise that a directly-provided service enjoys the flexibility of fixing rest days under the 1968 Act's fixed week definition? This is especially useful at holiday times such as in the last few weeks, when collection schedules have to be changed.
Nor do council-owned vehicles have to fit, use and maintain a tachograph. If the private tenderers assumed that they would inherit the councils' exemption they were wrong. The European Court ruled against such an exemption several years ago, in a case involving the dustmen of the West German city of Bremen.
Quite clearly, the public and private tenderers for municipal services were not competing on equal terms. But the Post Office is probably the most outstanding example of a nationalised industry benefiting from a major statutory privilege not enjoyed by its private competitors.
An article in the Sunday Times Business News last month showed clearly that the Post Office is not only an enormous business, but also a fiercely competitive one, especially in the parcels field. The fact that its drivers can legally drive for ten hours a day must surely give it a major advantage over its private sector competitors, restricted as they are to the EEC eight hour day.
Post Office legal privileges do not stop there. At the peak Christmas and New Year period, when flexibility is most needed, their drivers are allowed further concessions — a daily spreadover of 14 hours, against their competitors' 121/2, and a weekly duty limit of 66 hours, against 60 in the private sector. On top of this, Post Office drivers can aggregate up to four weekly rest days, while their competitors' drivers remain tied to 29 hours rest every seven days.
Nor are Post Office privileges purely statutory. Their vehicles have always been exempt from roadside checks by DTp examiners, on security grounds. It is argued that such checks would provide an opportunity for hijackers to pounce on trucks carrying registered mail.
But other, non-Post Office, vehicles also carry high value loads and are nevertheless subject to roadside checks. The fact that the police are always present at such checks, often in large numbers, makes them uninviting occasions for criminals.
So private sector parcels carriers are up against a major competitor enjoying the combination of much less stringent rules and immunity from their enforcement, supplemented by exemption from tachographs. No wonder that the Post Office has once again become Britain's largest parcels carrier, with a 1982 profii in this sector of over E7m.
This situation has no easy answers. Any Government must be wary of imposing further costly restrictions on important public sector bodies. But in practice much of the industry has found that the combination of the eight-hour day and the tachograph, however unwelcome, has provided a spui to efficiency. The Post Office, and other privileged public sector operators, might well learn the same lessons, if they had to.
One thing is certain. The present position, by perpetuating competition on unequal terms, makes much more difficult the Government's cherished policy of reducing the size of the public sector.