Trent's award
8th January 1983
Page 11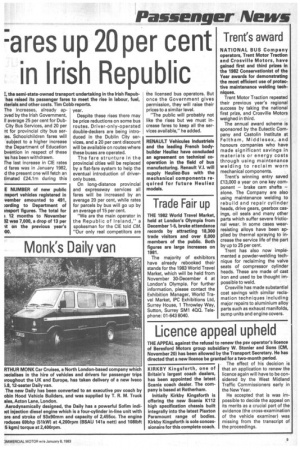 Page 11, 8th January 1983 —
Trent's award
Close
NATIONAL BUS Company operators, Trent Motor Traction and Crosville Motors, have gained first and third prizes in the 1982 Conservationist of the Year awards for demonstrating the most efficient use of protective maintenance welding techniques.
Trent Motor Traction repeated their previous year's regional success by taking the national first prize, and Crosville Motors weighed in third.
The annual award scheme is sponsored by the Eutectic Company and Castolin Institute at Feltham, Middlesex, and honours companies who have made significant savings in materials or energy costs through using maintenance welding to reclaim worn mechanical components.
Trent's winning entry saved £13,000 a year on one key component — brake cam shafts — alone. The Company are also using maintenance welding to rebuild and repair cylinder heads, drive gears, gearbox casings, oil seals and many other parts which suffer severe frictional wear. In some cases wearresisting alloys have been applied by thermal spraying to increase the service life of the part by up to 25 per cent.
Trent has also now implemented a powder-welding technique for reclaiming the valve seats of compressor cylinder heads. These are made of cast iron and used to be thought impossible to weld.
Crosville has made substantial cost savings with similar reclamation techniques including major repairs to aluminium alloy parts such as exhaust manifolds, sump units and engine covers.