'ares up 20 per cen
8th January 1983
Page 11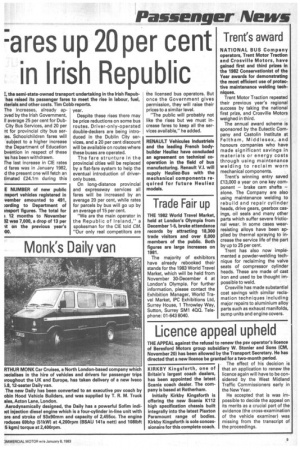 Page 11, 8th January 1983 —
'ares up 20 per cen
Close
in • Irish Republic
E, the semi-state-owned transport undertaking in the Irish Repubhas raised its passenger fares to meet the rise in labour, fuel, 'aerials and other costs. Tim Cobb reports.
The increases, already apwed by the Irish Government, II average 25 per cent for DubCity Bus Services, and 20 per It for provincial city bus ser:es. Schoolchildren fares will subject to a higher increase the Department of Education bvention in respect of these .es has been withdrawn.
The last increase in CIE rates d fares was in January 1982, d the present one will fetch an timated £24.1m during this year.
Despite these rises there may be price reductions on some bus routes. Driver-only-operated double-deckers are being introduced in the Dublin City services, and a 20 per cent discount will be available on routes where these buses are operated.
The fare structure in the provincial cities will be replaced by a flat-fare system to help the eventual introduction of driveronly buses.
On long-distance provincial and expressway services all fares will be increased by an average 20 per cent, while rates for parcels by bus will go up by an average of 15 per cent.
"We are the main operator in the Republic of Ireland," a spokesman for the CIE told CM. "Our only real competitors are
the licensed bus operators. But once the Government gives permission, they will raise their prices to a similar level.
"The public will probably not like the rises but we must increase fares to keep all the services available," he added.